A group of 30 dogs rescued from puppy mills by National Mill Dog Rescue experience being on the ground in freedom for the first time at Arizona Animal Welfare League & SPCA. For more information about puppy mills go to www.milldogrescue.org.
NMDR wrote about the footage at Facebook on February 17, saying: Just moments ago our rescue team arrived at Arizona Animal Welfare League & SPCA with precious cargo on board … 30 of the puppy mill dogs we had rescued this past weekend. We just received this heartwarming video of their very first moments on the ground, experiencing the joy of freedom. They look pretty happy, wouldn't you agree?
.
.
.
Colorado Based National Mill Dog Rescue Saves 75 Dogs From Puppy Mills in the Midwest
Two rescue teams from National Mill Dog Rescue mobilized into action and traveled through Kansas and Missouri picking up 75 surrendered breeding dogs from multiple puppy mills.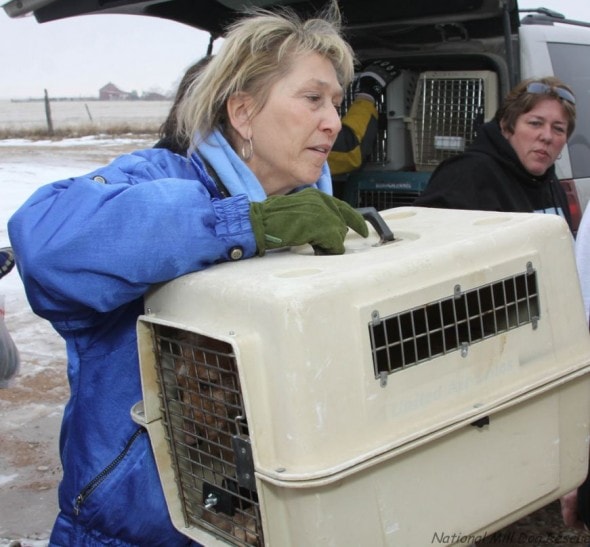 Feb. 16, 2014 – PEYTON, Colo. — In the commercial dog breeding industry, dogs are discarded (most often killed) when they are no longer of use to breed. The rescue team transported 75 dogs all to Lily's Haven, National Mill Dog Rescue's facility in Peyton, CO, arriving Sunday. Thirty of the dogs will be transferred to Arizona Animal Welfare League in Phoenix where they will be cared for and seek out permanent homes.
Theresa Strader, founder, had this to say about this rescue operation, "With the support of our community, other rescue groups and our volunteers, we were able to save many lives and give these dogs a chance for a life outside of the cage." These dogs will now receive the veterinary care and socialization they desperately need as they prepare to become family pets.
.
.
.
.
About National Mill Dog Rescue
National Mill Dog Rescue is a Colorado Springs based 501(c)(3) organization that rescues, rehabilitates, and re-homes discarded commercial breeding dogs from puppy mills. NMDR relies on volunteers to care for the dogs, from the moment they are surrendered to the time they are adopted and beyond. They depend on the generosity of the public to provide the high level of care they do for the dogs and to continue to be able to save them. To date, National Mill Dog Rescue has saved more than 8,600 dogs.
National Mill Dog Rescue started with a single sentence in an e-mail that Theresa Strader received: "50 Italian Greyhounds in need." A large-scale breeding operation, or 'puppy mill' was going out of business and all 561 dogs were going to auction. One of those dogs was a seven-year-old Italian Greyhound named Lily. The moment their eyes met through the wire of Lily's tiny cage, Theresa knew her life had changed forever and that this new life would include Lily and a mission to bring about lasting change.
.
<via>