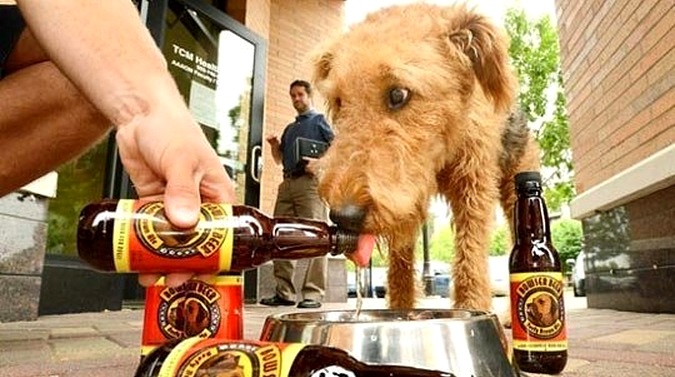 For me, beer is a family affair. When my wife and I started dating I was lucky if I got her to take a couple sips of Coors Light. Now, she drinks nothing but Fat Tire and can even stand a mild pale ale. Even my brother and my dad, casual beer drinkers before my fanaticism reached its peak, are fully on the craft beer train and have even started brewing their own beer. It's been an absolute blast to share those experiences with them.
Which is why I was particularly delighted by a certain Christmas present this past year. Not for me, but for my dog. The addition to our family of our golden retriever, Duffy, just shy of a year ago has brought us a ton of joy. He loves doing whatever we're doing. If it's yard work outside, he's "helping" with the digging. If it's loading the dishwasher, he's trying to lick the plates clean so nothing is left behind after the wash cycle. If we're watching sports, he's barking at the TV. I'm pretty sure he's cheering for my teams but the jury's still out on that one.
So, when I'm drinking beer he often feels left out. He sees that beautiful golden, amber or dark stuff in a glass and can't help jumping up on the couch to get a better smell as I sip. He wants in, and I don't blame him. But I'm a good human and try to avoid giving my dog alcohol. Crazy, I know. (Actually, hops can be toxic to some breeds of dogs, so there's that, too.) But when he unwrapped his presents this past Christmas, we were all delighted to discover The Original Bowser Beer, a non-alcoholic beer for dogs.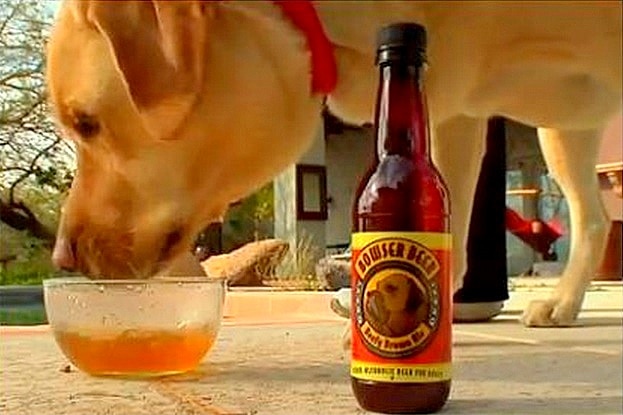 Bowser Beer is a creation by Jenny Brown who started a company called 3 Busy Dogs. It's been around awhile but hasn't always been popular. "Her idea was called crazy and bizarre but the popularity of a beer for dogs spoke to the incredible emotional bond people have with their pets." They have a beef and a chicken variety, named Beefy Brown Ale and Cock-a-Doodle-Brew, respectively. You can even customize your own label for your furry friend! Whether your dog likes to drink straight out of the bottle or on ice from her fancy bowl, there's no wrong way for your dog to enjoy the beer made for them.
Beer is a very special thing to me, and creating a great beer-drinking experience is what it's all about. The times that I get to share with my family doing brewery tours, beer tastings or even brewing our own beer are the greatest of these experiences. So adding Duffy to the mix has only been natural. 100% US made, all natural, that is.
They say a dog is a man's best friend. I've found that to be true with mine. And if you can't share a beer with your best friend, then what else is there?