An Oregon animal control officer is under investigation after "allegedly" beating a swift water rescue dog so badly that she will lose her eye.  No one saw the beating, but witnesses saw officer Hoyt Stepp follow Dojie into her yard after she returned from an escape.  A fundraiser has been set up to help cover her medical costs, since Stepp obviously won't be footing the bill.
On February 25th, Marlin Starr's nine-year-old lab (mix) got out of her backyard while he was out and took herself for a walk.  The swift water rescue dog had the misfortune of having animal control officer Stepp respond to the call of there being two dogs barking in the street.
Stepp claims that Dojie became aggressive with him, and he was forced to strike her with his baton.  But witnesses say neither dog was behaving aggressively, and ran back into their yard after being confronted by the officer in the street.
"At that point witnesses say the officers followed the dogs into the backyard," Starr said.  "One witness told me, 'your animals were perfectly fine until we could no longer see them.'"
Stepp left a note on Starr's door to inform him that his dog "may have been injured."  Dojie was beaten so severely that her right eye has to be removed.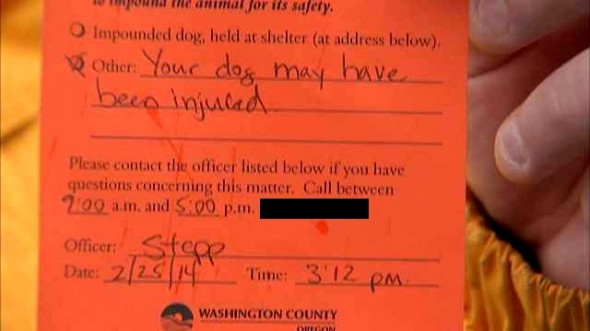 "It has already impacted her ability to be able to catch balls and sticks. I do not know how it will impact her ability to save lives on the river," Starr said. "It's incredibly tough, but I have an enormous support group surrounding me and that is growing every single day."
Police say they are investigating the matter, and were aware at the time of Stepp's instatement on the Washington County force just two months ago that he shot and killed a dog during an incident in Alaska in 2004.  He was cleared of any wrongdoing then, and Starr and Dojie's supporters will be infuriated if this clear abuse of power is swept under the rug.
On Friday, Washington County issued a statement to inform the public that animal abuse of any kind will not be tolerated.
"We care deeply about the well-being of animals and the well-being of our community," said Julie McCloud, a spokeswoman for the county.  "As with any incident that involves injury to an animal, we are reviewing the situation and looking at all the facts surrounding the incident."
Though Stepp claims Dojie was a danger and he felt threatened (oh man up, would ya?), Starr and others who have known Dojie for years say she is not an aggressive girl.
"I am outraged that an animal control officer would beat a dog and then only leave a note on the door saying 'your dog might be injured,'" said Jen Cauthers.  "I personally know this dog. She is the sweetest, most lovable, and well-behaved dog that I've ever known. She has been around children and hundreds if not thousands of people in the public and mostly in the river community of the NW. This is not the first time Officer Hoyt Stepp has been investigated for animal abuse. We need to see that the law holds him accountable for his excessive use of force against this innocent service animal. JUSTICE FOR DOJIE!"
Jen and her husband Nathan are just two of many fighting to see that there will be justice for Dojie, who may never be able to perform as a rescue dog again.
"I have personally known this dog since she was a puppy," Nathan said.  "She is a swift water rescue dog and has had extensive training. She has never acted aggressively toward anyone ever!  I know she did not threaten Hoyt Stepp in any way. The most important details are:
"Mr. Stepp illegally trespassed onto Mr. Starr's property and excessively beat this service animal!  The fact that she got out of her yard is not the point! The neighbors who witnessed this even told the officer that she had gone back onto her own property. All he had to do was close and lock the gate. There was no need for him to illegally enter the property or to beat her in the face!"
Starr is devastated by what happened to his beloved dog.  Everyone is hopeful that Dojie can recover from this trauma.  In the meantime, she is having nightmares; Starr hears her crying and whimpering in her sleep.
He has set up a fundraiser to help pay for the surgery, with any extra funds going to animal advocacy groups.  If you would like to contribute toward Dojie's medical fund, please click here.
"She's my baby," Starr said.  "She's my life, and I love her."