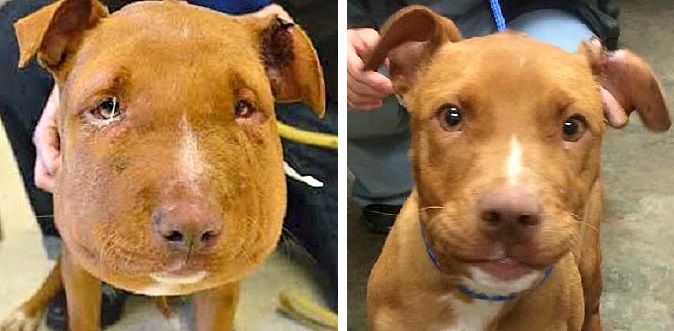 Cheers' life has hardly begun, and already she's suffered so much.  Someone tied a rope around her neck so tightly that she could scarcely eat or breathe.  Her circulation was cut off so badly that her head swelled to immense proportions.  But thankfully she was rescued, and now is making a full recovery!
Two good Samaritans in Georgia came across this cute little girl, who was struggling to survive.  They didn't know what was wrong with her, but they gave her some food.  It was when they saw her choking on the tiny bites that they realized a rope was tied so tightly around her neck that they could barely see it.
She was brought in to Fulton County Animal Services, and is now being treated and recovering with Second Chance Rescue NYC Dogs.  Her eyes were infected and full of pus, and due to her injuries, it was decided that it would be best for her to stay at the veterinarian's office to recover.
Now she is doing much better!  Soon she will be ready for a home.  If you are interested in adopting Cheers or just following her progress, give Second Chance a like on Facebook.
If you would like to help Cheers, there are a couple of options.  Hendrick Boards offers a variety of clothing, accessories, gifts, and pet supplies, and each purchase sends 10 dollars towards dogs in need.  You can donate directly to Second Chance by clicking here, and your funds will go towards Cheers and other dogs in need.  You can also donate to Fulton, who has an amazing team that works tirelessly to help unwanted dogs and get them into great homes.