Best Dog Foods for Pancreatitis
Meta: dog food for pancreatitis, food for a dog with pancreatitis, my dog has pancreatitis, what should I feed a dog with pancreatitis, how do I feed a dog with pancreatitis
Best Dog Foods for Pancreatitis
We all want our four-legged fur babies to be happy and healthy. However, if we let our dogs become overweight, feed them a high-fat diet, or let them indulge frequently in table scraps, we are putting them at risk for pancreatitis.
Pancreatitis is inflammation of the pancreas. When this happens, the digestive enzymes that are usually dormant until they get to the small intestine activate in the pancreas. The result is pain and inflammation as the pancreas begins to literally digest itself.
If your dog is suffering from acute or sudden-onset pancreatitis, he needs medical attention immediately and will have to live on a low-fat diet. However, some dogs do have chronic pancreatitis and need to remove almost all the fat content from the dog's diet. If your pet is carrying extra weight, his or her risk for pancreatitis increases.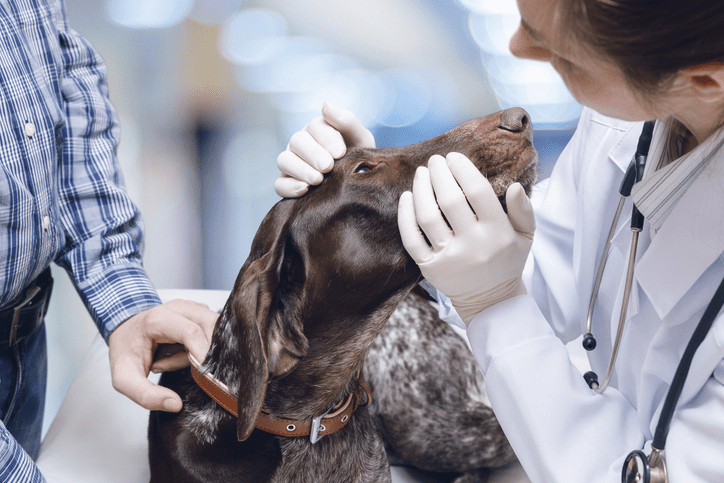 To ensure a settled belly for dogs with pancreatitis and possibly abdominal pain, all dry kibble should be served soaked in warm water or non-fat, low-salt broth and served at room temperature. Following are the best foods for dogs with chronic pancreatitis.
Top Dog Foods for Pancreatitis
Wellness Core Reduced Fat (RF)
Great turkey taste, gluten-free, and grain-free, Wellness Core RF is a great option for your pet with pancreatitis. As with all Wellness products, the food is made with all-natural ingredients, has no soy or meat by-products, and there are never artificial flavors, colors or preservatives. This low-fat dog food formula has 25% less fat for maintaining a healthy body weight.
Canidae Platinum
Canidae Platinum is canned dog food that is veterinary formulated for any age, size, or breed. It is great for less active, overweight, or senior pets. This formula is made of nutritionally dense lamb, fish, and chicken to make a great protein source. There are no grains or fillers in this tasty meal. Canidae uses premium ingredients, with added vitamins and minerals, as well as a tasty broth that dogs love. Canidae is a family-owned company that never compromises on quality.
Avoderm Chicken & Rice gives your pet a formula made without corn, soy, wheat, or other fillers, and added nutrients for a healthy pet. The formula includes omega-3 and omega-6 fatty acids for healthy skin and coat, as well as premium proteins and advanced antioxidant nutrition.
Eagle Pack's formula has 35% less fat than the original with high-quality animal proteins and is fortified with a hearty vitamin and mineral blend including antioxidant and immune health support. The formula is free of wheat, corn, meat or poultry by-products, artificial flavors, colors, and preservatives.
Nutro Lamb and Rice Canned Food
This lamb and rice recipe offers premium nutrition with only the best ingredients. Made with lamb, lamb livers, brown rice, and sunflower oil, this tasty meal will help your pet maintain a healthy weight and it is easily digestible.
Natural Balance Sweet Potato & Fish Dry
This grain-free formula is nutrition appropriate for dogs with sensitive bellies. Salmon is easily-digested protein not found in most dog foods, and the fresh sweet potatoes deliver top-quality carbohydrates and potassium. The added flaxseeds provide omega- 3 fatty acids for a healthy coat and skin.
While intended for obese dogs, this formula is high in fiber to support healthy digestion.
The high-quality protein blend supports your dog's healthy weight and conserves lean muscle. The added omega fatty acids give your dog healthy skin and a shiny coat.
Organix Chicken and Sweet Potato
This food formula, based solely on organic ingredients, is one of the best options for your pet with pancreatitis. It starts with organic, free-range chicken and organic sweet potatoes. Omega-3 and 6 fatty acids are added for extra skin and coat benefits. The formula also includes organic blueberries, flaxseed, and coconut oil for extra anti-oxidant benefits.
Whole Earth gives your pet a recipe based on fish: salmon and whitefish. These high-quality proteins and the additional all-natural fixings support easier digestibility. It is grain-free and is fortified with important vitamins and minerals for overall pet health. This organic, made in the USA, contains no soy, corn, wheat, or poultry by-products, and is free of artificial flavors, colors, and preservatives.
Health Extension's Grain Free Salmon Recipe gives your pet a balanced diet with easily digestible proteins. It also offers an exclusive blend of supplements and nutrients, such as organic apple cider vinegar, to help boost your pet's immune system. There are absolutely no added hormones. This formula has no fillers, by-products, rendered animal fats, wheat, corn, gluten, soy, or artificial additives.
Hill's Science Diet Sensitive Stomach
This Hill's Science Diet formula gives your pet precise nutrition that is easily digestible. Hill's made in the USA diets contain wholesome, natural ingredients like a savory chicken meal. Every ingredient meets Hill's strict requirements for purity and nutrition.
Pancreatitis Diet Benefits
While your dog is on a pancreas friendly diet, the odds of an acute attack or increased pain will be limited. Not only are these foods easily digestible, but they are also high in protein and omega fatty acids to help with your dog's overall health.
These food formulas are all based on natural ingredients (if not organic) that will keep your dog from being exposed to by-products or chemical additives that could aggravate his condition. These possibly harmful ingredients can also be dodged if you avoid feeding your dog table scraps. Many human foods are loaded with artificial flavors and colors that could harm your pet.
Conclusion
Chronic pancreatitis can be a painful and debilitating illness for your dog to live with. To avoid flare-ups and acute attacks of pancreatitis, it is crucial that he eats a diet rich in protein and high in fiber to maintain good digestion.
Avoid high-fat foods, human table scraps, and anything with a high level of chemical additives. If your dog is obese, feeding him with these low-fat, natural foods will promote a healthy life.
If your dog has chronic pancreatitis, don't limit his treatment to the dinner plate. Keep up regular vet visits to track the disease and ensure he leads the best life possible.