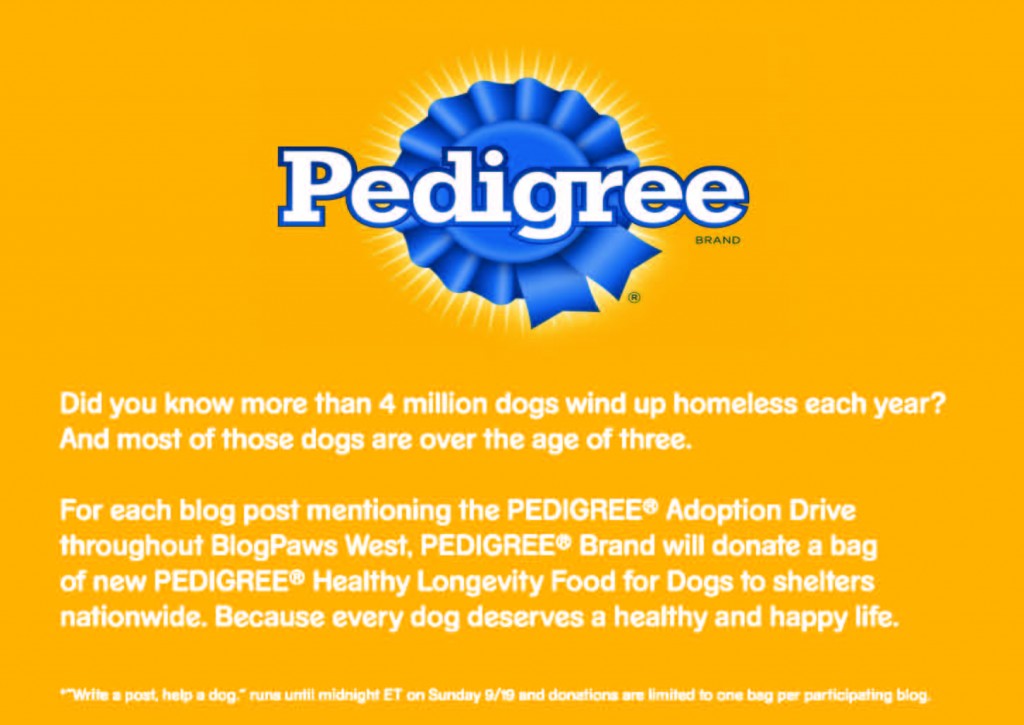 If you are here, thank you. It's apparent that you have an interest in animal welfare, or that you have come to leave a link to help spread the word about a really great, easy way to make a difference. Forgive the repetition, but if any new bloggers arrive over the weekend I want them to know how to participate, so instructions are repeated below. I would also like those of you with substantial Twitter follower numbers to consider tweeting about the idea. I will be at a company function all weekend and will have little time to mention this after Friday.
Here is the breakdown:
For each blog that posts about the PEDIGREE® Adoption Drive through September 19th, PEDIGREE® will donate a bag of their new Healthy Longevity Food for Dogs to shelters nationwide. It's simple: Write a post, help a dog.
Thursday, September 16 through Sunday, September 19,  the Pedigree BlogPaws bloggers will host a Blog Hop, to help raise awareness for the "Write a post, help a dog" effort.
That's it. No fine print. Unprepared? Go back to your blog and invest five minutes in adding yourself to the list. You'll feed dogs in need and feel great about doing it.
Please post and retweet and share. We have days to add to the numbers!