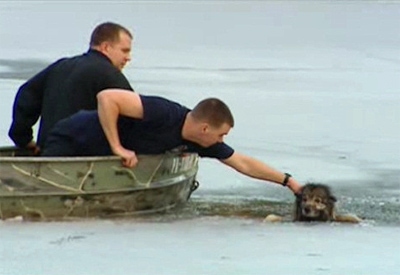 A remarkable ice rescue was captured on camera in Delaware on Friday. Firefighters from Elsmere and Cranston Heights Fire companies responded to a 911 call for a dog that had wandered onto ice and fallen through.
According to his owner, Mark Murowany, 13 year old Boo "Goes around the lake and visits all his friends" on a regular basis, but never ventured onto the ice – before Friday. Mark's mother, Maria Murowany, heard Boo's distressed barks and ran out to see her son's dog's head poking out over the ice. "I called Boo. I said, wait a minute, wait a minute, mommy's coming. He's barking," said Maria Murowany.
Boo wasn't just barking: neighbors described his cries as 'screams for help'. One neighbor who heard his wailing called 911.
Crews arrived just after 5pm and used tools to break the ice so they could use a rowboat to make their way to the stranded dog. "Going out was a little tricky," said one rescuer. "I could barely reach out and try not to tip boat at the same time. It (the dog) was a lot bigger than I thought it was. We got him into the boat, and they pulled us back to shore."
Safe at home, Boo is enjoying a helping of special attention. The Murowanys  set up a space heater to keep him toasty and have showered him with treats. They say that his future walks around the lake will be more closely supervised. "I was really afraid we were going to lose him. Thank God for the rescuers that got him, said Maria Murowany."