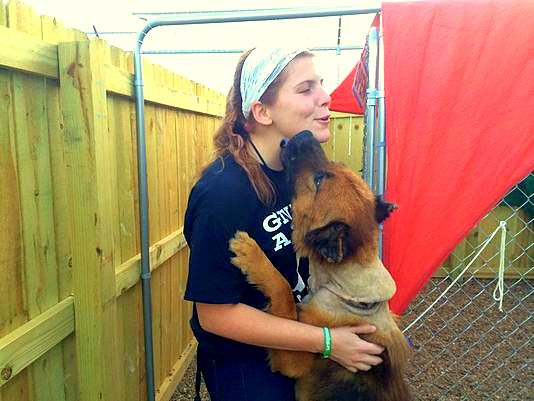 A five-year-old Chow mix with a 40-pound chain and collar embedded into his neck leaped out of the back of a pickup truck and was immediately taken in by rescuers.  So far Phoenix knew nothing but a life of sheer misery, but now he's been given a second chance.  He is full of love to give, and is learning what it means to be loved back.
Last week Friday Phoenix made his daring leap from the truck of his abuser as he was being driven down Woodlawn Road in Clarksville, Tennessee.  He landed sharply, but the pain was nothing in comparison to what he had been enduring for the last five years.
He was lugging a 40-pound chain, and had a double loop of chain wrapped so tightly around his neck that it seemed apparent that it had been there since he was a puppy.  The driver turned around to retrieve him, but kept going as two bystanders rushed to help the dog.
"He was very unhappy and didn't want anyone to touch him," said Rafi Johnson, founder of Willy's Happy Endings.
As she cut the cable away from him, Phoenix realized he wasn't going to be abused and returned the kindness.
"He realized we weren't trying to hurt him, we were trying to help him," Rafi said. "He even licked me."
She took him to the North Stewart Vet Clinic in Dover to remove the collar and the tissue that had grown around it.  He has an open wound encircling his neck that must be flushed daily, but he is slowly making progress.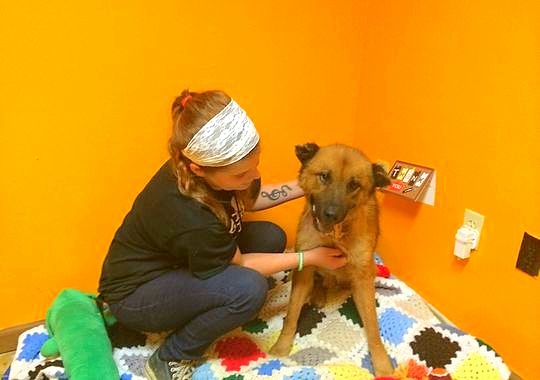 He arrived weighing only 40 pounds, and is working on gaining another 20.  He is battling with a systemic infection that must clear up before he can be neutered and undergo heartworm treatment.  The tips of his ears have been eaten away by flies, and most of his back fur is missing because of flea infestation.
Staff members have fallen in love with Phoenix's charming personality and quirks as he adjusts to a more normal life.  It is likely because he was on a chain too short for him to move properly, but when he is excited he bucks like a bronco, keeping his front legs planted while he kicks out his hind legs.  And he's always ready to give Rafi a kiss.
"What I want to do is change their lives and show them life is not all bad, and people are not all bad," Rafi said.
She and the staff do not make any money from the shelter, and all animal care is donation-based.  Anyone wishing to donate toward Phoenix's care may call the vet at 931-232-9900 or send their donation to WHE Animal Rescue, 2073 Wilma Rudolph Blvd., Clarksville, TN  37040.  Children are encouraged to send cards and drawings.  The animals might not think much of them, but it is to help children learn to be compassionate toward animals.
A reward is in place to bring Phoenix's abuser to justice.  Witnesses say a very large man was driving a silver or gray pickup truck across from The Garden Center.
"We just think he deserves to be punished for what he did," Rafi concluded.
If you would like to adopt Phoenix, or any number of their other dogs in need, particularly the elderly and ill animals that have been overlooked by people wishing to find the perfect pet, please click here.