Bruno began his life as a rambling man, and though he was adopted, old habits die hard.  He lives just outside a small city of about 150 human residents, and he spends his days walking there to visit them.  Since he's the area's most popular citizen, he's been honored with a statue and a sign, distinguishing him as the official "town dog and ambassador."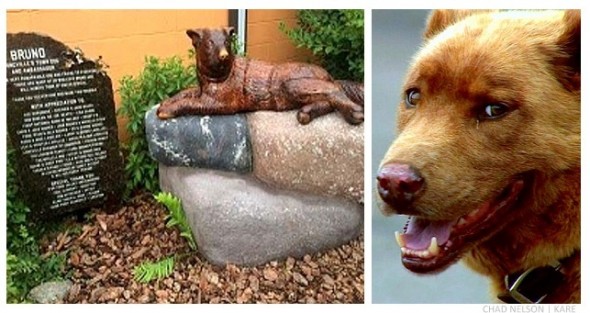 "It's just been his routine as far back as I know," said Sharon Rouse, who frequently sees him from her reception desk a realty office.  "Everybody knows Bruno… [you] may not know the people, but you'll know Bruno."
Nearly every day for the last dozen years, the teddy bear of a dog has been walking four miles to Longville to visit and get treats from the locals of Longville, Minnesota.  When he's had his fill, he walks back home to Debbie and Larry LaVallee.
"The first time I seen him in town, he almost beat me to town," former trash collector Larry told KARE 11.  "I was picking garbage on the way, and I get in town, and I wasn't there five minutes, and there's Bruno."
He had known Bruno to be a drifter from the moment he met the puppy.
"A guy come in my driveway, and Bruno was a little pup, and he says, 'I found your dog at the end of your driveway.' I says, 'Well, he ain't my dog.'"
He believed the poor thing had been abandoned, and decided to keep him.  But it seems that Bruno was never meant to stay in one place.  No matter what they tried, the LaVallees could not keep him from escaping.  He's just determined to roam about and see all his buddies in town.  One can't help but to think of Dion's song, "The Wanderer."
Some might believe his owners to be reckless by allowing him to traipse the streets alone.  However, small town and country life is much different than it is in busier areas, and both Bruno and drivers are careful to pay attention while he's on the road.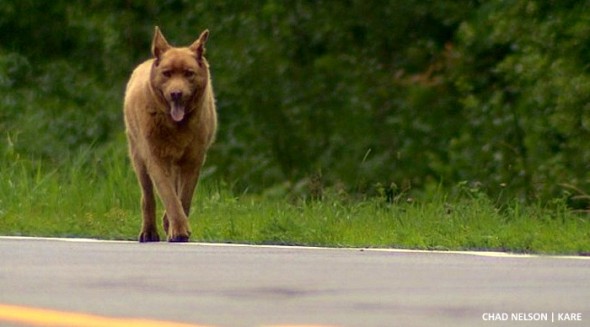 "He's our buddy, we kind of watch out for him the best way we can," said Patrick Moran, the owner of a real estate office on Bruno's route.  "Last week he came in stayed about an hour and a half or two hours."
Visitors in town often say that seeing Bruno is the highlight of their trip.  But the LaVallees are used to getting calls from strangers to the area who aren't familiar with Bruno, and the silence they're greeted by when they tell them to let him go, and that he'll come back on his own has become a bit of a laugh by now.  Sometimes he gets a ride home from people he sees regularly.
"He's more friendly that most of the humans in town, and I'm not saying that in a negative way about the humans," commented Mary Tripp, one of his chauffeurs.  "He's that lovable."
It's especially important now, as Bruno's age is catching up with him.  It takes him longer to make his journey, and some days he just stays home.  But no matter how many more walks he's got left in his life, he's made the most of his travels, and recently had his legacy cemented.  Last year, sculptor Paul Albright carved a wooden statue for him, which was placed in a park.  The sign next to it reads, "Longville's town dog and ambassador."
Sharon says this esteem is well deserved, and calls Bruno "the mascot of Longville."
He's even been given his own Facebook page so people can see what he's been up to.