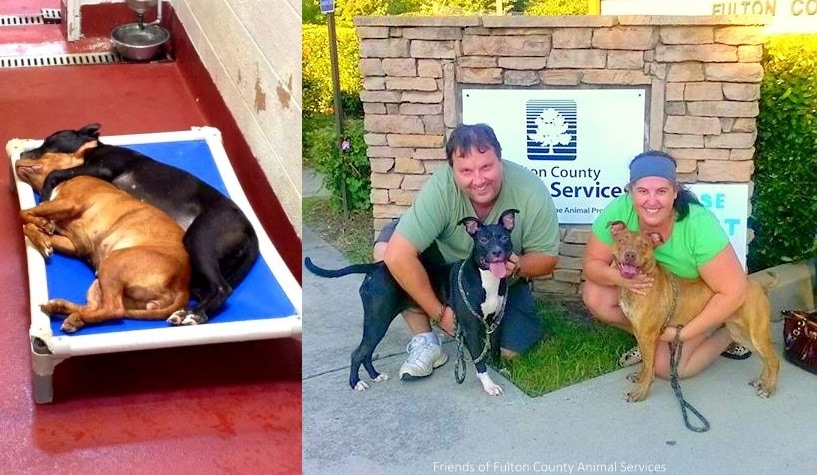 Remember Kyra and Delaware, the scared dogs who found love with each other at a lonely Atlanta shelter?  Well, we're happy to tell you – they've been adopted together!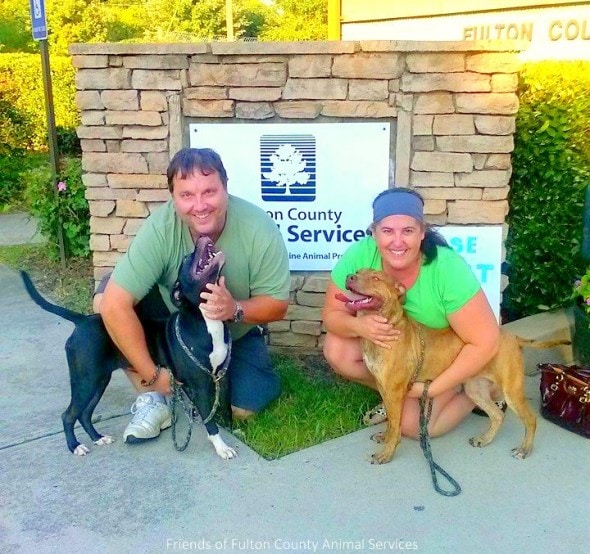 "Their day has finally come!! Kyra and Delaware have been adopted and have found a furever home together," reads the post on Friends of Fulton County Animal Services.  "This is a very happy day here at FCAS! They are going to be some very spoiled babies! So many people have been fighting for these two and it has paid off. Sharing saves lives… Happy tails, sweet girls!!"
"Please continue sharing for Manny and Typhoon and all of the others here that also need a new family to love."
Manny and Typhoon skyrocketed to fame months ago when images of them hugging one another in comfort went viral on FB. We had inquiries from all over asking how these dogs were doing, but sadly, no one came to rescue or adopt them.
If you would like to adopt this wonderful bonded pair and live near the Atlanta area, please email Fulton County Animal Services, call them at 404-613-0358, or click here.
If you'd like to give these dogs a home but live too far away, just remember, there are plenty of animals in your area without an interesting story that need homes, too.
MANNY (bottom left)
A465145
7 Months old
Little Manny is just a big baby. Like many puppies, this boy is high energy and needs someone to spend time with him and teach him proper behavior.  Manny will make a great companion for many, many years.  Come meet him today.
TYPHOON (bottom right)
A465219
9 Months old
Typhoon is very fun and playful. He enjoys playing with other dogs and would do well in an active household.  He is eager to please and should learn basic commands quite easily.