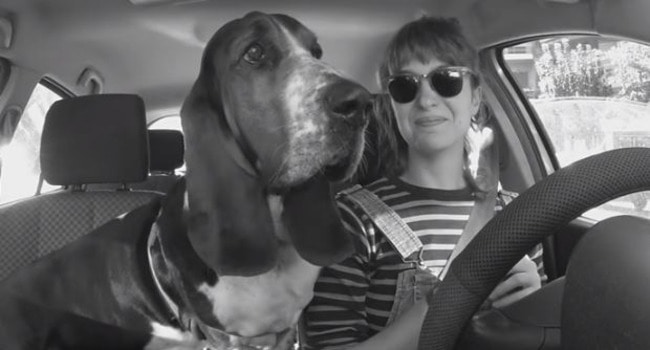 Ilektra, 31, and her 4-year-old Basset hound, Elliot, are veteran commuters in their native Greece.
"Last September I started taking him to work with me so that he wouldn't spend so many hours alone at home," Ilektra told us. "Like all Basset hounds, Elliott loves his humans…. He is super curious about everything and wants to participate in whatever you may be doing no matter how 'human-y' it may be."
During their first car rides together, she noticed Elliott's interest in the road.
"He started sitting in the front next to me, paying attention as if he was driving himself," she explained. "I thought it was very funny so I started filming our rides to and from work…. While viewing the footage, I noticed that at times our movements would synchronize, especially at stop signs and such, and started working on an edited version…. Eventually, I ended up with this little video of our various car adventures!"
Listen to the lyrics and you'll find they're quite dog-centric. That's because Ilektra wrote the song for the video. Elliott's "dad," who is a composer, produced it.
"We get lots of laughs and smiles from other drivers when we re together in the car," says Ilektra, "and it makes me feel really nice that somebody who woke up to go to work feeling grumpy [is cheered when he or she] sees him sitting there being all happy and attentive! Elliott is a great mood enhancer, a really funny and loving dog. He is a real friend and I adore him!"