Everyone should be aware and be prepared for the risks in case of a fire or medical emergency. The more prepared you are with your loved ones, the more likely the emergency you face will come out with positive results. Bo Regards ICE Plaque is an innovative product that addresses a big concern for many pet owners.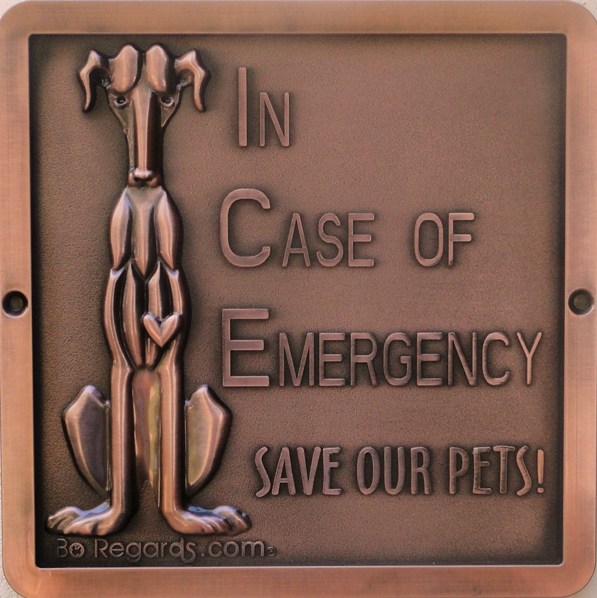 It fills a need, but is aesthetically pleasing and easily installed on any home, apartment, condo, and even travel trailer. Careful attention was paid to the quality and functionality of the product.
Proudly made in the USA, each plaque is 8.5″ X 8.5″ with 3 finishes to choose from. These attractive fire safety plaques are available in Burnished Copper, Burnished Brass or Burnished Nickel. These products are crafted of highly durable ABS Resin that has been professionally electroplated, antiqued, and finished with a clear lacquer protective coating. This is the same technique used in the automotive, plumbing and aeronautical industries for many years.
The plaque is designed to be easily mounted to the outside of a wall or door; it can also be screwed onto the exterior of your home. Anchors and screws are provided with each plaque.
Bo Regards is proud to have chosen this laborious process to complete their product,  making it a durable work of art. The plaque comes with wall mount screws and regularly retails for $34.95. Bo Regards is a family owned business with the goal of helping you protect your pets in the event of a fire or other emergencies.  For more information check out their website at www.boregards.com or visit them on Facebook.
How to Enter
Today's three giveaway winners will each receive one fire safety plaque – in the copper finish shown above – by mail. As always, only those in our e-mail list are eligible, and if you're not one, you can fix that in five seconds by clicking here. When your first daily digest e-mail arrives, hit reply, type the words "enter me" in the subject and send (current subscribers can reply to today's digest). We'll use randomizer.org to select one winner, who will be notified by e-mail. Entries will be accepted through midnight Wednesday: please note that this contest is open to residents of the US and Canada only.
Tired of blocking your views with traditional fire safety window clings? Here is the stylish alternative that you've been looking for – get those entries in, and as always, good luck!