Family owned ALC INovators Inc. has been producing the IN line of nutritional supplements for dogs and cats for over 20 years.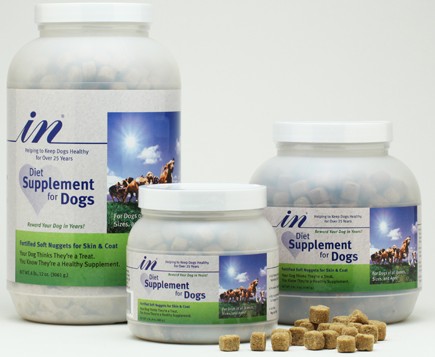 The name "IN®" is derived from the last two letters in the key ingredient in all of ALC's supplements: lecithin. Lecithin is an antioxidant, an emulsifier of fat and a source of three essential fatty acids. In addition to helping dogs breakdown fats, and better absorb vitamins and nutrients, lecithin promotes healthy skin and a beautiful coat.
While most dog foods and supplements are cooked at high temperatures that scorch their vitamins and nutrients, IN supplements are never cooked. Through their unique cold process, ALC INovators has found a way to produce supplements that maintain the integrity of their ingredients while also taking the form of a soft nugget that dogs take as a treat.
The newest formulation from ALC INovators is the IN Diet Supplement for Dogs "Blue Label." The "Blue Label" is corn and wheat free and formulated with oatmeal, watercress, spinach, beets and celery. Taken daily, IN® fortifies the immune system and bridges the gap between what dog foods provide and what dogs need to stay healthy, and the entire Life With Dogs pack is powered by IN supplements.
The fish oil and lecithin not only promote beautiful skin and coats, but also help to prevent and alleviate many common skin conditions such as hot spots, dry skin and bare spots, eczema and dermatitis, and mange. ALC has hundreds of testimonials from owners who had tried everything to rid their dogs of skin and coat problems to no avail, and then experienced a complete turnaround after just a few weeks on IN.
Perhaps the most amazing story ALC has ever received was from a Samoyed named Laika who had been diagnosed with a rare disease known as Alopecia X. When Laika's owners had nearly given up having visited countless vets and using dozens of products, they decided to give IN a chance. After a few months, Laika transformed from being almost completely hairless back to her normal self.
Treat your dog to IN and watch the transformation take place. IN is safe for dogs of all ages, sizes and breeds. Whether you have a mixed-breed rescue or a an AKC show dog, IN will be a great addition to their diet. Your dog will feel the difference and you will see the difference! Give IN!
[dcs_head top="0″ color="#666666″] [/dcs_head]
How to Enter
Today's five giveaway winners will each receive a free 3.5 lb jar of Blue Label IN Supplements by mail. As always, only those in our e-mail list are eligible to enter, and if you're not subscribed, you can fix that in five seconds by clicking here. When your first daily digest e-mail arrives, hit reply, type the words "contest entry" in the subject and send (current subscribers can reply to today's digest). We'll use random.org to select winners, who will be notified by e-mail. Entries will be accepted through midnight Sunday: please note that this contest is open to US residents only.