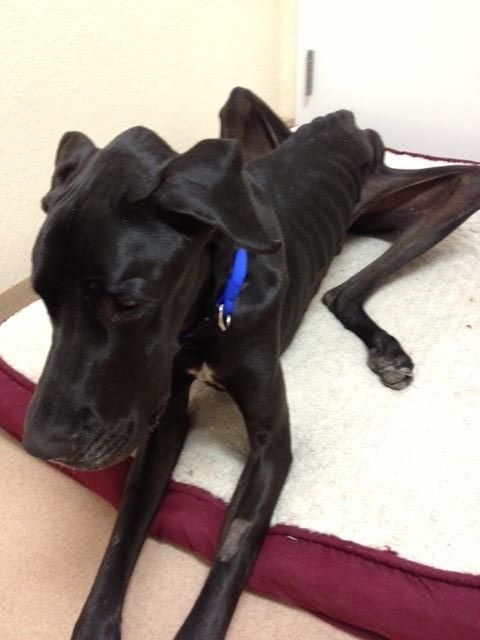 A three-year-old Great Dane was hours away from dying when Southwest Great Dane Rescue (SWGDR) in Fla., came to his aid. When animal services picked him up, they had no idea what was wrong with the dog. They just knew he needed help and fast.
The gentle giant had bloated and gone into torsion. If it wasn't for SWGDR and John Mullins, the volunteer who picked him up, the dog wouldn't be alive today.
"In the middle of the night our volunteer went over to animal services to pick him up," said Vikki Eagan president of SWGDR. "The dog's stomach had descended and he was just not doing well."
Once under the care of SWGDR, veterinarian Dr. Beth Brown from West Coast Veterinary Center, examined him and took some x-rays. She prepared the dog for surgery.
"When Dr. Brown opened him up, she saw the bloat and that the stomach had twisted," said Eagan. "The splint had also burst and it was evident this poor dog had been sick for days."
The surgery took over three hours. One hour alone was dedicated to emptying dog's stomach content.
According to Dr, Brown, when the dog was on the table he picked up his head and looked at her with the softest eyes she had ever seen. He showed so much will to live and because of that, his name is now Will.
"Dr. Brown said she was going to do whatever it took to save him," said Eagan.
Will spent one week in intensive car. At first he couldn't get up or walk, but with the help of the volunteers and his now foster mom and vet tech Christina Pelletier, Will is doing much better.
"Will came in weighing around 98 pounds," said Pelletier "A Dane of his stature should weight 135-140 lbs."
Will has a long road to recovery, but Pelletier and SWGDR are doing what they can to help him. His medical costs are now in the thousands and his care is not over yet.
Will requires a specialty diet of canned food, enzymes, vitamins and freeze dried meat. Val Clows of Holistic for Pets has donated these items. She will also supply Will with Rx dry diet, when he is ready to transition to eating that type of food.
"Will is so determined to live," said Eagan. "As long as he keeps fighting, we are going to be right there with him."
If you would like to learn more about Will, contact SWGDR Facebook page. If you would like to help Will, donations can be sent to:
SWGDR
3005 65th Street E
Bradenton, FL 34208
West Coast Veterinary Center
c/o Will
7910 State Road 72
Sarasota, FL 34241
PayPal on the website at swgdr.org