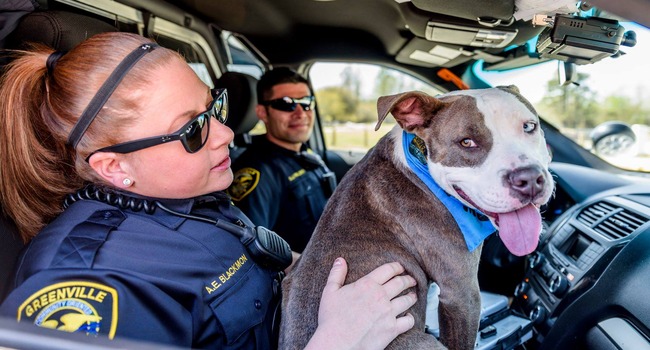 ————————————————————————————————————————————————————————————————————————————–
————————————————————————————————————————————————————————————————————————————–
Like every other rescue dog, Harvard is in search of a forever home, but after taking part in the Greenville Police Department's new "K9 for the Day" program, perhaps he's one step closer!
Harvard is the program's inaugural dog. He lives, for now, with the folks at the Humane Society of Eastern Carolina. The program helps get these dogs out of the shelter for fun and stimulation all while promoting pet adoption in the community. He is a new ambassador.
It was all by accident, too.
Another dog, Heidi, was all set to be the first dog in the program, but a minor mishap postponed the 1-year-old Staffie mix's debut. She's just fine, but, "being the goofy girl she is," HSEC staffers told the News Observer, she tried to eat a bee on what was to be her big day out.
And so Harvard, another 1-year-old Staffie mix, went in her place.
"This gentleman is such a handsome, loving boy," the Humane Society wrote of Harvard on its website. "He gets the zoomies and runs around our play yard and then runs back quickly to get snuggles."
The police department reported on Harvard's day out on Facebook. He and the officers went to the Town Common, visited Police Chief Mark Holtzman (where the pup earned an honorary badge), said hellos to city public works crews and more. Harvard also enjoyed lots of belly rubs and a nap in the police cruiser.
The social media posts racked up the interactions and it proved to be a wonderful first outing for the new HSEC-PD partnership.
"We were so sad to drop him back off," the police department wrote on Facebook. "But we know he will find his forever home! Could it be with you?! Harvard and many other wonderful dogs and cats are up for adoption at the Humane Society this weekend! Adoption hours are Friday-Sunday 1 p.m. – 5 p.m."