Is hard to believe a pet owner would want to abuse his or her companion pet, yet many animals in the world suffer this unfortunate fate. Many of them lose their lives in the process. Fresa (Spanish for Strawberry) is one lucky survivor dog that was abused by her owners and then abandoned to die on the streets of Mexico.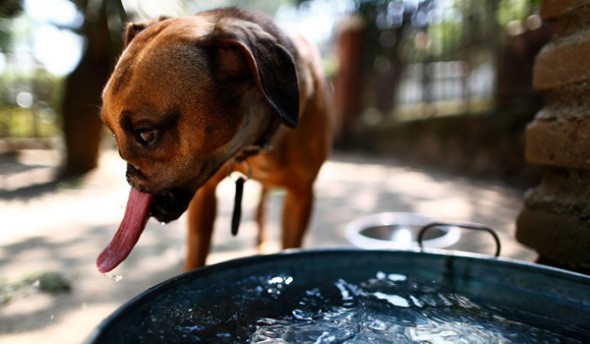 The five-year-old abandoned dog, believed to be a boxer, was found just outside Mexico City. Her snout had been hacked off and veterinarians believe she was attacked with a machete.
The dog was taken to Santuario Milagros Caninos in Mexico's capital, and there she underwent emergency surgery.
Surgeon Jesus Paredes, did two surgeries on Fresa. The first surgery was to reconstruct the dog's nostrils and allow her to breathe normally again. It took six hours. The second one took place three weeks later and it was to fix her upper lips. This one was plastic surgery and gave Fresa a functional and aesthetically pleasing snout.
"I don't know if there are people who think she isn't pretty," posted Santuario Milagros Caninos on their website. "We think she is beautiful. [Fresa] is now happy, runs all day long, is very social, and loves to sleep on her own bed."
Many people wondered why the animal organization wanted to spend so much money in "giving a dog a face," and  their answer was always the same: "We are giving her back what a human took away from her."
After the surgery, the dog re-learned how to eat and drink water. She now eats shredded chicken or ground beef, and doggy treats all on her own.
The canine is still under the shelter's care and continues to make a marvelous recovery.
"Fresa tricked us. We thought she was a boxer but turns out she's a Pug!" jokes the rescue group.