A young dog, clearly used as a breeding machine for as long as she was useful, was heartlessly tied up to a railing at a Brooklyn train station and abandoned.  Hundreds of passersby barely even glanced at her, but one woman finally stopped to help, and now Betsey is safe and comfortable for the first time in probably her whole life.
She's only two years old, but has been churning out puppies for as long as she's been old enough to do so.  Her nails are so overgrown that walking is painful, and the pressure sores on her joints show that she has been forced to lie down nearly all of the time.  So being deserted at a bustling subway platform during rush hour must have been terribly frightening.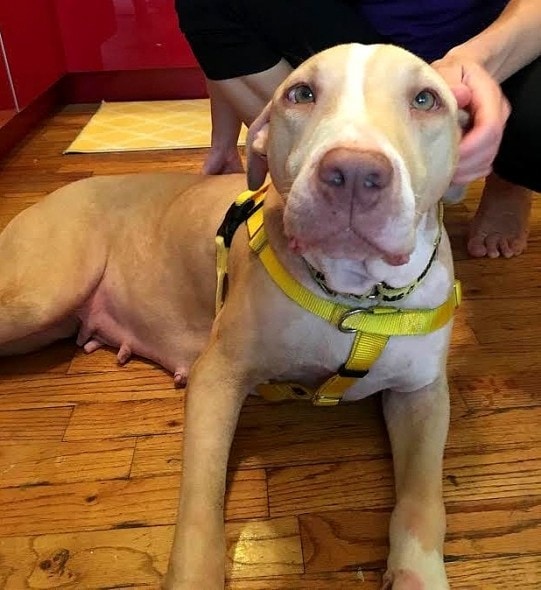 Brooklyn's Atlantic terminal sees thousands of travelers every day, yet only one stopped for a moment to pay this girl any attention.  She was still wearing a prong collar, and her former owner ditched her with nothing but a garbage bag as a bed.
"It was determined that she had been there for at least an hour and nobody had called the cops or animal control," Marisa Grimshaw of Mr. Bones & Co. animal rescue told The Dodo.  "So we can only imagine how many people walked past her — and I'm sure didn't think it was normal but also didn't feel compelled to stop and help her."
Sarah Borok was on her way home from work when she came across the trembling dog, and she knew she had to help.  She called the police, who contacted animal control.  Borok waited with the "throwaway mama" until they arrived.  The dog was taken to a shelter in Brooklyn and named Betsey.
"Betsey was shy and timid.  But staff at the shelter had no concerns about her behavior. She wagged her tail, let other dogs sniff her," Grimshaw explained.
The next day, Borok came to visit and see how she was doing.
"Betsey was excited to see her again the next day at the shelter and definitely remembered her," Grimshaw said.
This girl is in need of some serious rest and pampering.  She appears to have already had several litters, her feet are stained with filth, and she has some kind of grime embedded in her fur.  But now she's being cared for since being pulled from the shelter by Mr. Bones.
Before going to a foster home, she was able to spend her first night with Borok.  It's a shame that she cannot adopt Betsey, as they seem to get along very well, but it's just not in the cards.  She will be up for adoption soon, and needs to go to a home with patient people who understand that she has limited dog experiences:  leashes, toys, and treats confound her.
"She's extremely sweet," Grimshaw said.  "She allows everyone she meets to pet her and she's always eagerly seeking out pets from everyone. She lights up when she sees other dogs and she wags her tail."
Mr. Bones & Co.  many truly wonderful dogs available for adoption, including Miss Betsey here.  If you are interested and live in New York, Pennsylvania, New Jersey, Connecticut, or Rhode Island, please click here to fill out an adoption application.  If you can't adopt but would still like to help, please click here to donate towards her medical care.