President Obama was just recently in the news for his family's acquisition of their newest Portuguese water dog, Sunny, and now he's making headlines again for his position on pit bulls and breed specific legislation.
With so many animals in shelters needing homes, it has upset a few that the Obamas did not adopt their new dog. Now, many of you will undoubtedly have an opinion on the president. But whether you sing his praises or refer to him solely as "Obummer," please bear in mind that this site is about dogs, and not political parties.
So regardless of anyone's thoughts on Mr. Obama's policies and decisions, here is one that many dog lovers can get on board with: his administration has recently signed a petition calling for the end of breed specific legislation on a federal level and issued a statement speaking out against it.
Lisa LaFontaine, president of the Washington Humane Society, believes the president's stance will help at least get the word out about the need to put a stop to discriminatory laws.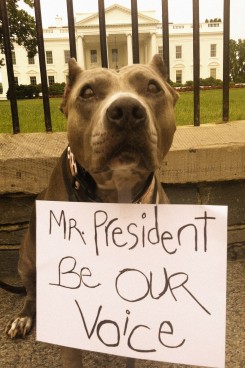 "The White House is such a bully pulpit for important issues," she said, while her daughter's pit bull, Lila, napped nearby. "And certainly for them to come down against this type of discrimination I think will give pause to any communities that are thinking about putting something like this in place, and certainly will fuel the work that's already being done by advocates to overturn legislation that already exists…It's a really happy day."
Noting that there are widespread bully bans in military housing units, LaFontaine would like to see some action taken on their end to the bans. She says "there is nothing more difficult" than seeing families have to give up loved pets because of unfair laws.
"I really, really hope that the military takes note that the Commander in Chief has made this statement about there being no place for breed-specific legislation," she said.
Regarding Obama's position on overturning bans, actress, comedian and pit bull advocate Rebecca Corry believes "it's the least he could do." She is planning a pit bull march on Washington next May.
"Discrimination enshrined in law is not OK," said Corry. "And that's exactly what breed-specific legislation is."
Here is the White House's full statement on the matter, which agrees with the CDC's position on bully bans:
"We don't support breed-specific legislation — research shows that bans on certain types of dogs are largely ineffective and often a waste of public resources.
In 2000, the Centers for Disease Control and Prevention looked at twenty years of data about dog bites and human fatalities in the United States. They found that fatal attacks represent a very small proportion of dog bite injuries to people and that it's virtually impossible to calculate bite rates for specific breeds.
The CDC also noted that the types of people who look to exploit dogs aren't deterred by breed regulations — when their communities establish a ban, these people just seek out new, unregulated breeds. And the simple fact is that dogs of any breed can become dangerous when they're intentionally or unintentionally raised to be aggressive.
For all those reasons, the CDC officially recommends against breed-specific legislation — which they call inappropriate. You can read more from them here.
As an alternative to breed-specific policies, the CDC recommends a community-based approach to prevent dog bites. And ultimately, we think that's a much more promising way to build stronger communities of pets and pet owners."
Now it's time for Congress and the House to step up.