In what the Oregon Humane Society is calling the largest animal neglect case they have ever had 149 dogs and two cats in deplorable conditions, starving and suffering from neglect, were seized on Sunday night. The president of Willamette Valley Animal Rescue, 24-year-old Alicia Inglish, was arrested and charged with 120 counts of second-degree animal neglect and one count of tampering with evidence.
When police raided the Willamette Valley Animal Rescue on Sunday what they saw was the opposite of what one expects from an animal shelter.  Police found 149 dogs in awful conditions. Some dog's eyes were sealed shut with bodily fluid and as many as five dogs were crammed into a kennel fit for one.  Many of the dogs had open sores. None of the dogs had access to food and what water they did have access to was dirty.
"This is so far and away from the perception of warmth and caring people expect in an animal shelter," said executive director of the Oregon Humane Society, Sharon Harmon. "I saw one animal stuffed into a cage that was so small he was unable to lie down, sit or stand up," said Oregon Humane Society veterinarian Kris Otterman. "He had no food or water in his cage, and I'm not sure how long he'd been left in that condition."
Many of the dogs were starving, some so severe that they will need to be put on "refeeding programs"  to re-introduce small amounts of food that is easy for them to digest. "Those dogs were shut down," said Harmon. "They don't show interest in food."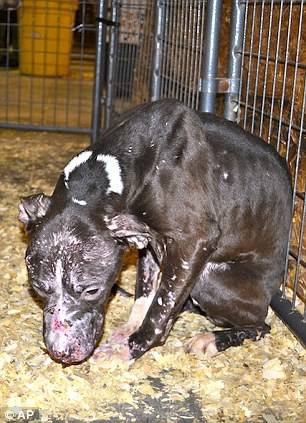 A team of 21 deputies and volunteers from Oregon Humane Society and Willamette Humane Society worked through Sunday night to care for the seized animals. The dogs were taken to three different shelters. The Oregon Humane Society took in 110 of the dogs. In doing so the Oregon Humane Society is now at double its capacity for dogs. They are asking the public for help minimize the crowded conditions. They currently have 80 dogs available for adoption and are reducing the adoption fee of all dogs one year and older to $50 through January 18th.
The dogs from the raid are being held as evidence and are not available or adoption at this point. In addition whether all the dogs can be rehabilitated or adoption is still unknown. The Oregon Humane Society hopes to get the dogs healthy and into good homes as soon as the legal system will allow.
Sheriff's officials said they had tried to work with Inglish to address issues with the rescue after receiving complaints previously but were again and again met with no cooperation from Inglish and the Willamette Valley Animal Rescue. The Oregon Humane Society also tried to help and inspect the facility but also faced lack of cooperation when they were turned away.
Inglish is currently being held at the Marion County Jail on $300,000 bail. Sheriff's officials are expecting to make additional arrests in this case.