We speculated about whether Meghan Markle and Prince Harry's eventual baby announcement would be met with less enthusiasm than the name (and a photo, please!) of their new dog about a week ago — and then they went and made a baby announcement!
Okay, so that WAS pretty buzzy news around the world, but while the newlywed and soon-to-be parents are cavorting around Australia, accepting gifts, meeting with fans and having a good ol' time around Oz, dogs have been figuring prominently into the cross-country journey.
Both are longtime dog lovers, and of course, who can blame them?!
Here's a fun moment captured on Twitter by commentator Emily Nash of Prince Harry enjoying the process of aiding a sheepdog as it overcomes quite the impressive obstacle at a community picnic in Victoria Park:
WATCH: Harry has a go at getting a dog to jump a fence at the community picnic in Victoria Park – with success! #RoyalAustraliaTour pic.twitter.com/fqJCVxMyQe

— Emily Nash (@emynash) October 17, 2018
The Duke and Duchess also greeted several other dogs while at the colorful event, and seemed to enjoy the company of each one.
The baby news, of course, still figured prominently, and though they accepted all kinds of gifts, this fuzzy animal was probably the best symbol of their time away from home!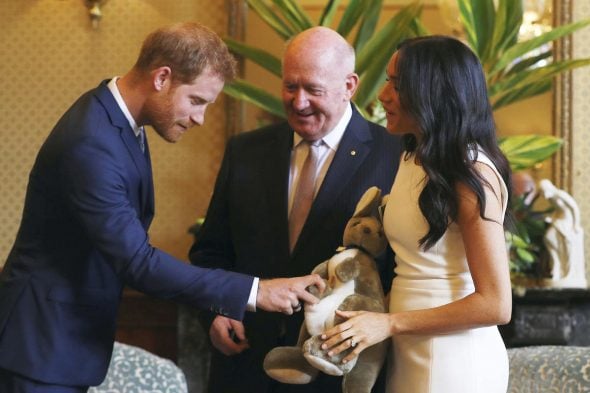 Did you know…?
…that Bogart, who was Meghan Markle's first dog, came into her life thanks in part to Ellen DeGeneres?
In an interview with Best Health, Markle shared that while visiting a shelter in Los Angeles, she spotted the dog who would become hers at the same time DeGeneres and her wife, Portia de Rossi, were there.
"Now, I don't know her, but Ellen goes 'Is that your dog?' And I said, 'No,' and she's like, 'You have to take that dog.' And I said, 'Well, I'm deciding.' And she's like, 'Rescue the dog!'"
Later, as the "Finding Dory" star was heading out, she tapped on the glass wall of the room where Markle was still deciding and said, "Take the dog!"
And she did.