From a distance it could be mistaken for a reclining tiger, with its big paws and striped orange and black coat.

But then it stands up, wags its tail and barks – giving the game away.
This unsuspecting canine is the victim of what appears to be the latest craze in China – painting pet dogs to look like other animals.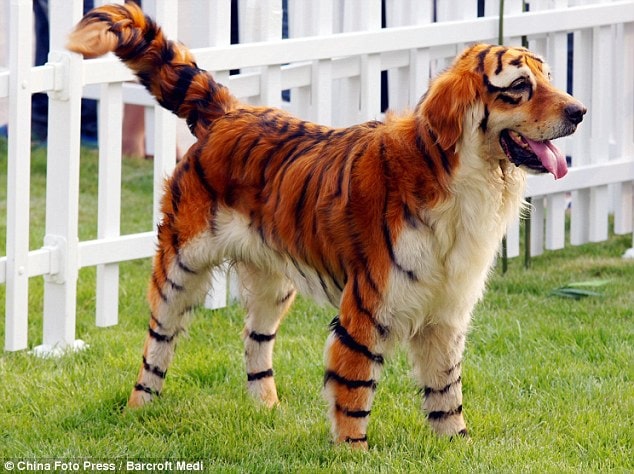 Bizarre: A pet retriever in China has been dyed by its owner to resemble a tiger
Today the retriever was joined by three furry friends whose dye jobs were much more convincing.
The tiny, fluffy dogs were the spitting image of baby giant pandas thanks to their makeovers.
The animals were pictured after being transferred to Zhenghou from Southwest China's Sichuan province over the weekend.
Doggy dye job: These small furry dogs look the spitting image of baby panda cubs
Transformation: The dog appears unfazed by its new coat
It is not known how the owners managed to get their animals to stay still in order for them to carry out the extremely convincing dye jobs.
Recent figures show money spent on pets across the nation has seen nearly a 500 per cent increase between 1999 and 2008 – but, arguably, at the cost of their pets' dignity.
On parade: The dogs were put on show after being transferred to Zhenghou from Southwest China's Sichuan province