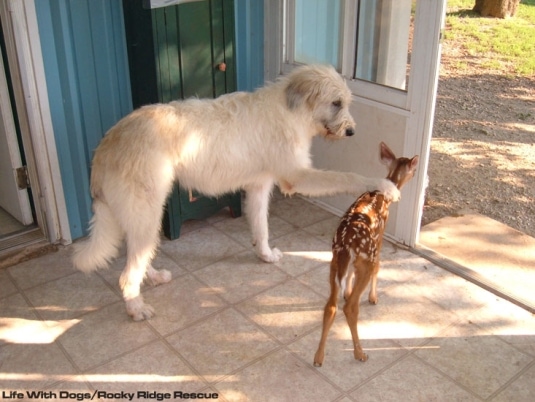 What do you want to be when you grow up?
I want to be Janice Wolf. Wait, allow me to clarify: I'm not headed off to Switzerland for any special surgeries (my wife is probably breathing a sigh of relief) but I want to be Janice Wolf in spirit. And as you will see, she possesses an abundance of the kind of spirit and passion that makes many of us stop to reevaluate our chosen path(s) in life. I would love  to be able to say that I have made the brave, selfless choices she has for herself and her animals.  I cannot, and few that I know may claim to make the kind of difference that Janice Wolf does for animals in need, around the clock, every day, week and month of the year.
I happened across Janice on Facebook a few months ago. She had posted a picture of a dog with a duckling on our fan page and it was very well received. I sent a private message to her to ask about the story behind the picture and was rewarded with a number of extended conversations (both via e-mail and phone) that led to the discovery and understanding of her rescue in Gassville, AR. This is far from your average backyard rescue organization – in fact, I'm not sure I've seen another like it. So let's take a closer look at Rocky Ridge Refuge, its inhabitants, and the tireless woman who continues to sacrifice for the sake of the lucky animals who find themselves in her care.
An excerpt from  Lurch and the Herd:
You may have never heard of Gassville, AR but there's one good reason — well, actually about 60 reasons — you might find Gassville very interesting. We're talking about Janice Wolf and the residents of Rocky Ridge Refuge. Janice lives on fifteen acres of land she inherited from her father. Ever since moving onto the property she has been living out her life-long dream of establishing a home for abused and abandoned animals.
Janice is a dreamer in the best sense of the word — which means she's also a "doer." She gives hope and a future to domestic and exotic animals that otherwise would have lived out their lives in sadness and suffering. In the process the animals have taken each other in and formed a unique family. It's kind of like the Island of Misfit Pets at Rocky Ridge. As Janice says, "Everything I have is broken!" Combining her education (a masters degree in human rehabilitation) and her experience (as a veterinarian technician) with her passion for holistic remedies and herbal medicine, Janice has made a positive difference in the lives of untold numbers of animals and people alike.
On any day at Rocky Ridge you will see Tristan, Puzzle and Parfait — dogs who were constantly passed over because they have only three legs. There's Brian, an African goose who was left for dead when Janice rescued him. Brian and the aforementioned Puzzle recuperated together after Puzzle had major surgery. There's a Llama with one good eye named Noogie and a rambunctious zebra named Zeebiscuit. Janice tells us  "Zeebiscuit was bred to sell at auction but had a difficult birth where he was deprived of oxygen. This left him with seizures the vets couldn't cure. The breeders didn't want to keep him longer to see if he could get better (read spend more money on him) so I was called. I still had to pay them a lot if I wanted to try to save him, but he was born on my birthday, so what could I do???? 🙂  He was also cured with natural remedies."  There's a blind black lab named Oops who has befriended a deaf bull terrier named Cornbread. They are each other's eyes and ears.
These are only a few of the amazing and unique friendships you will see at Rocky Ridge. Cat and goose, dog and lamb, llama and donkey are just a few of the species that have become fast friends. Janice also has adopted and treated wild deer, miniature donkeys, Zebu cows, injured racehorses, cats and even an antelope that lived in her house for a while. Oh! We haven't even mentioned world famous Lurch the Watusi steer or his best friend, Wade the Water Buffalo — they're rock stars!
Janice Wolf didn't wait for someone to give her permission to take action. She didn't wait until she had all the answers and all the resources. As soon as she had a place she employed her sharp mind, great heart and incredible work ethic to start rescuing animals. She started with one. She did what she could and built from there making the world a better place one precious life at a time.
Janice and her packs/herds/flocks of animals were featured on The Ellen Degeneres Show a few years ago. Ellen and the audience came to appreciate this generous soul who provides a haven for needy, unwanted animals with no real financial support – or for that matter security. After her Ellen appearance things were great for about a year. A barn was built and donations supported the operation for some time. And like so many great causes, the spotlight moved away and left Rocky Ridge Refuge to the old way of getting by: with very limited assistance.
When I spoke with Janice last (in April) and asked her how she was doing, she answered in her typical, relaxed fashion. "Well," she offered, "It's a pretty quiet night. The dogs are lazy and one of them is hanging out with a deer in the bedroom." I had to stop her immediately to ask why she was keeping it in the house. "We do have a barn," she replied, "But some shortcuts were taken when it was built and the room we have for the fragile youngsters is not insulated."
That single sentence sums up everything about Janice that I love. Stop to consider the reaction most of us have when our dogs track a little mud on the carpet and read her statement again. Who comes first in every circumstance? The animals. Everything about her existence somehow leads back to making things better for those who cannot do so for themselves. If that means giving up the bed for a deer, letting a goat take a dip in the bathroom tub, or ducklings running through the kitchen, so be it. The rest will sort itself out.
Rocky Ridge Refuge and Janice Wolf have a history of good deeds behind them that would take countless pages for me to describe, but I hope I have shared  enough to make you want to learn more about just what a difference one person with the will to do so can make. I encourage you to start with their about page. If, like me, you find yourself ten pages into the site with an hour of smiles behind you, don't thank me. Share their story with friends, give what you can, and take a moment to thank the woman who continues to do for animals what most of us wish we could, and in all reality, probably never will.
Rocky Ridge Refuge was chosen as our first featured rescue with good reason: I've never seen anything quite like it.

Watch for Janice and Lurch (1995-2010) the Guiness Book record holder for largest horn circumference of any animal ever) to appear in the documentary Looking for Lurch, winner of the Little Rock Film Festival Audience Choice award for 2010. Please consider joining their Facebook fan page as a show of support. And before you go, see this tribute video that Janice recently completed.