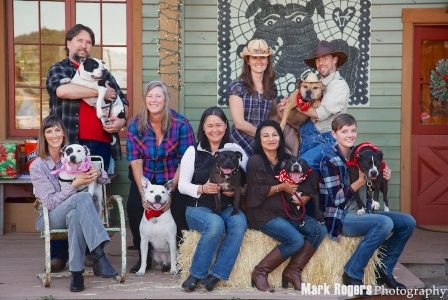 Five years ago several of the dogs rescued from Michael Vick's Bad Newz Kennels arrived at BADRAP in San Francisco, California. Seven of those dogs and their current owners had a reunion on October 27th to celebrate their new lives.
BADRAP was one of two non-profit organizations that took in Vick's abused fighting dogs. Many believed the dogs could not be rehabilitated, but BADRAP was determined to give them a chance. The seven dogs that attended the reunion have all gone on to be amazing dogs and pets.
BADRAP put on the reunion to celebrate the dogs and their incredible rehabilitation. "So much focus has centered on their former abuser when really, the most stunning performance in this saga continues to be the dogs who survived unimaginable hardships. Despite the early neglect and abuse, most of the dogs who came to California have gone on to earn impressive accolades, and all have proven themselves to be cherished family companions," said BADRAP director Donna Reynolds.
Each of these seven dogs has made a remarkable comeback. All seven dogs have Canine Good Citizen certificates. Three of them serve as therapy dogs in hospitals and children's literacy programs. One of the dogs Audie was very shy and had to have two faulty knees repaired when he arrived five years ago. He is now excelling as an agility dog. "They're all heroes and they have so much to teach us about come backs, resiliency and embracing the joy of the present moment," said Reynolds.
These seven dogs are just some of the large number of dogs rescued from Vick's Bad Newz kennel. Twenty-two dogs went to Best Friends Animal Society and their Dogtown sanctuary in Utah. The dogs, which the organization calls the Vicktory dogs, have been making dramatic improvements as well. Several of them have become therapy dogs and many have become great family pets.
Ten of those dogs are still at the sanctuary, eight of which are waiting to be adopted . "Lucas and Merrill will live here for the rest of their lives. The rest of them, according to the courts, can be adopted out," said co-manager Michelle Logan. Lucas and Merrill were the prized fighting dogs of Bad Newz Kennels. They can't be adopted out, but they are living a great life at the sanctuary.
Information on the remaining Vicktory dogs waiting for homes can be found here.