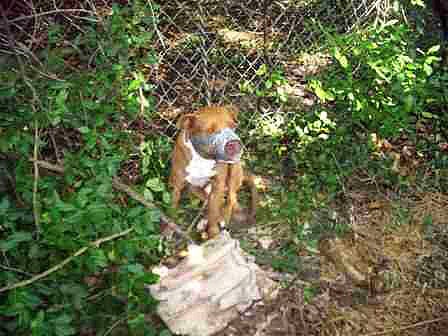 A one-year-old pit bull was rescued in Kentucky after having been found tied to a fence with his snout duct-taped shut. A reward is being offered for information on who did this.
It is believed he was being used as a bait dog because he is covered in bite marks.
"He clearly, in my opinion, was a bait dog and this is not the first time being thrown into a ring," said Rebecca Eaves, director of The Arrow Fund. "Basically, a dog got him here, broke his canines and pushed them in."
The pup, now named Frodo, is being treated at the Blue Pearl Animal Hospital, where he is being pumped full of antibiotics and painkillers. One of his legs will have to be amputated because of injuries, but staff say he's lucky to be alive.
"It's a shame what they do to these animals, and I'm emotional because I'm sick of this," Eaves said. "This is a sweet, sweet puppy, that was just shown a life of horror."
Frodo was found on the 2600 block of West Kentucky Street in Louisville. Investigators have no idea who tied him to the fence, and are urging the public to come forward.
"Right now, we want to plead to the community," said Donald Robinson with Louisville Metro Animal Services. "You can remain anonymous. Please call our tip line, let us know if you've seen anything, if you've seen this particular animal out in that particular neighborhood."
The Humane Society of the United States is offering a $5,000 reward for information leading to the arrest of the individual(s) involved.
"We want to put this person behind bars," Eaves stated. "Dog-fighting is rampant here in Louisville and everybody needs to be serious about it. Don't be afraid. Turn them in."