The Linebargers are incredibly thankful that their one-year-old therapy dog Willow is alive, which is a miracle after she was poisoned.  Combat veteran Doug and his pregnant wife Katie believe their landlord illegally entered their home and gave their crated dog a lethal dose of Baclofen, a strong muscle relaxer.  But thanks to the generous donations they have received, Willow is recovering and the Linebargers are pursuing justice.
The Warr Acres, Oklahoma couple arrived home on July 7th to find their residence ransacked and Doug's therapy dog, Willow, covered in urine, drooling and unresponsive.
"Everyone that knows us know that our dogs are our kids. Well, we have been having issues with our landlord harassing us while we are trying to move out [and] last night Doug and I came home to one of our dogs (Willow) barely breathing – almost dead – and we rushed her straight to Neel's Veterinary at 2 AM," Katie explained.  "Turns out our landlord went into our home unlawfully while we were gone and poisoned our German shepherd… She is in a coma and in critical condition. Our girl is holding strong but we are devastated and scared of losing her.  However, the vet clinic will not give her the best treatment she deserves until we pay almost $1,700… nor will they let us leave until we pay. If we leave they will put her down. So we aren't going anywhere.  We have been here since about 2 AM waiting… I don't usually ask for prayers but please pray for our baby girl. She means the world to us."
This comes from Doug's Facebook page:
"To those of you who trust so easily and trust those who work in the public school systems to be kind and protect our children, I want to bring a sad story to your attention. We have been renting from what we thought was a good Christian woman who is a principal in the Oklahoma City Public school system. She is the most soulless, evil woman I have ever met. We have been dealing with her illegally entering our home, walking in on my wife in the shower and constantly driving by. Well, just yesterday this woman, who claims to be a good Christian woman, entered our home unlawfully while we were away and trashed our home and poisoned our fur baby Willow and left her for dead. Not only is she a family member but she is also my service dog that helps me stay calm from PTSD that I suffer from for being a combat veteran.
"Hopefully it isn't too late for her. We rushed her to Neel Vet Clinic on North MacArthur, where she lies in ICU in very critical condition in a comatose state. Due to the high cost from what the evil woman done to our fur baby she is receiving only minimal treatment because we are in the middle of moving and don't have the funds to get better treatment. Hats off to Warr Acres PD for doing the best they can but she should be exposed and justice needs to be served for what she does to harmless animals. She is pure evil and should not be free of the charges and should not be a leader of children in the public school system. Our baby is barely hanging on and we need help to right the wrongs and we are not looking for a hand out but any help would be greatly appreciated. Willow is our baby and family and she should suffer the consequences of her evil ways."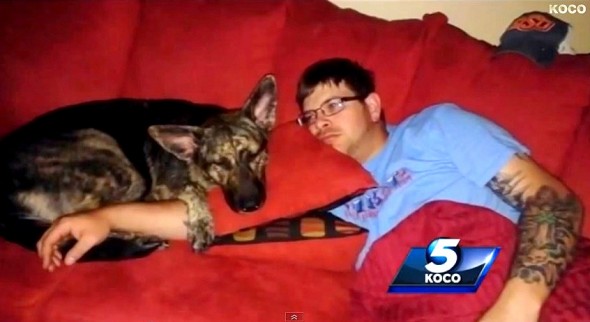 Thankfully, support and donations came flooding in for the Lineburgers, and after having either Katie or Doug camped out at the vet's at all times, enough money was raised to get Willow the treatments she will need to survive.
"As far as a Willow update she is walking! And eating! She has walked outside on a leash – she is still a little drunk and she is a little freaked out about her surroundings of course and has some pretty bad anxiety and she is having issues with her right eye and may not have vision in it," Katie said.  "But she is following her commands, like 'sit' and 'lay down,' which is awesome.  However, she has had enough of the vet messing with her and won't really let them do very much testing right now to see any long term effects… Also thanks everyone for all of your help and support! We are still staying positive as can be. We have had so many generous donations and have exceeded Willow's vet bills, and the extra money will be donated to the Bella Foundation. Thank you so much for all of your love and support for our fur baby.  We still aren't sure about a full recovery, but things are definitely looking up for her."
There is an ongoing investigation of the landlord, who has not yet been named.
"She has already been charged for unlawful entry twice before and the police have told her if she is caught here again she will go to jail," Katie said.  "There wasn't forced entry – the police said it was someone with a key that had to have come in.  Not to mention, our neighbors witnessed her vehicle in our driveway the night this all happened."
UPDATE:  Willow is home and resting.    (7/10/14   11:00 pm)