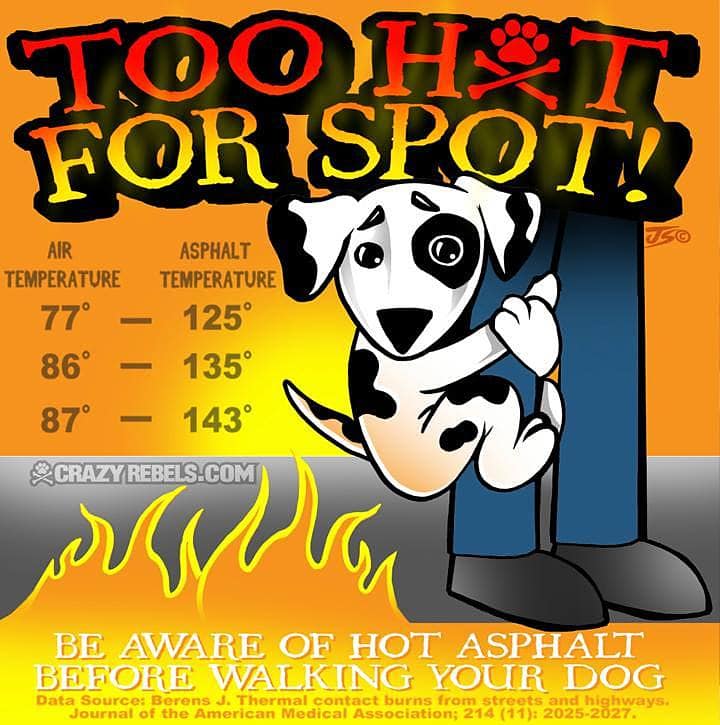 At this time of year, everywhere you go you see people walking their dogs.  But on the really hot summer days – 75 degrees and higher – you can't help but wince when you see dogs being walked on streets and sidewalks.  Their paw pads are akin to having really callused feet, so remember, if it's too hot for you walk barefoot, it's too hot for them.  Please share so others are aware!
Pads aren't always visibly burned when a dog's been injured.  Here are some symptoms that those toes have been toasted:
Limping or refusing to walk
Redness or darkening of the pads
Swelling or blisters
Excessive licking and chewing of the feet
You don't want to keep your dogs cooped up when the weather is phenomenal, so how can you help keep them safe?  Well, in addition to making sure that you keep them hydrated on their walks, you can also protect their tootsies.
Stick to the five second rule – if you can't hold the back of your hand on the asphalt or pavement for at least five seconds, it's too hot to walk your dog.
Try to take walks during the coolest times of the day – early morning and late evening.
Make sure you walk them in the grass as much as possible.
Drive to a park and walk on hiking trails.
Boots aren't just for winter! Amazon has a wide variety to choose from.  You can even run to a dollar store or drug store and grab some baby socks if there's no time to hit up a pet store.  Shoes will also protect their feet from hot sand and sharp rocks and shells at the beach.
Moisturize their feets and use paw wax.
Take them swimming or to a splash pad instead!
But remember, water can soften the pads, so make sure to do even more to protect your dog's feet after they've been swimming or splashing around.