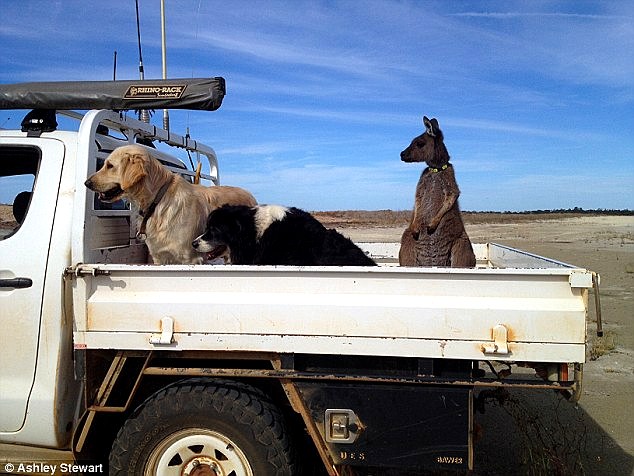 Dusty the kangaroo became an orphan when his mom was hit by a car in Western Australia.  But Ashley Stewart and his wife Felicity rescued the little joey and kept him alive.  After spending the last two years with his canine siblings, he now thinks he is one.
In a rural area like this there are always kangaroos around who unfortunately get hit on the road and for various reasons orphaned joeys are found, and so we weren't sure when we took him home what would happen," Stewart told the Daily Mail.  "We weren't sure he would even survive but we fed him and of course he's just taken off from there."
The little guy thrived, and once he was weened off milk, the Stewarts realized he was one of the family.
"He lives on the back patio. We've actually had to go and buy a third dog bed for him to sleep in because he used to pinch one of the beds from the dogs."
Dusty adores his sisters Lilly and Rosie.  But golden retriever Lilly is more like a mother.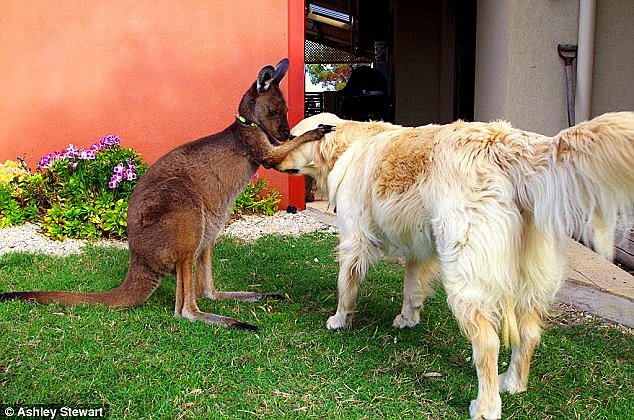 "He thinks Lilly is his mum, he's always grooming her, they're always together, and if Lilly goes out of the yard he pines for her and sort of hops up and down the fence until he's let out to go with her."
The kangaroo doesn't just hang out with the dogs – he snoozes with them on dog beds, enjoys being scratched, takes truck rides, and sneaks in the occasional dog treat.
"He's either eating or sleeping. He's a very placid creature, and every time you walk out the door if he's not laying in his bed he comes up and wants a pat and a scratch," Stewart said.  "He even puts his arms up and wraps them around you like he's giving you a cuddle."
Just like the dogs, Dusty wears a collar.
"When he was little we used to let him out during the day and he'd go off grazing and wouldn't come back at night, so we'd have to go looking for him," Stewart said. "We just couldn't find him as kangaroos don't make any noise and are very still."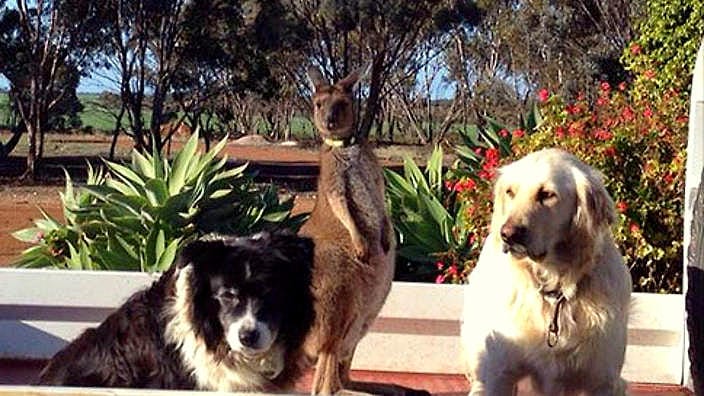 "Once we found him he would always come back with us, so we decided to wrap some reflective tape around a collar so when we shone a torch (flashlight) at night we could see him."
He definitely isn't a fan of cats, and prefers to spend most of his time with the pups.
"He just likes to hang out with the dogs, probably because he thinks he's a dog. He eats and sleeps with them, and will wander down to the shed with them and lay around if I'm working there."
Dusty doesn't eat dog food, but grains, rabbit and guinea pig feed, and for treats he is given apples and bread.  But naturally, he wants dog food and treats.
"Although when we feed the dogs he often wants what they're having."