No one wanted Princess.  She was scheduled to be euthanized, but a miracle happened.  Jenny and Jimmy Desmond found her, and now the three of them rescue lots of other animals worldwide, giving them much needed treatment and love.
The Desmonds spend much of their time overseas conducting animal rescue missions.  They take on as many abandoned, orphaned, and injured animals as they can – and Princess was one of them.
"[Princess] was considered 'unadoptable' and was scheduled to be euthanized," Jenny told the Dodo.
Jimmy is a wildlife veterinarian, and he and Jenny treat and rehabilitate animals all over the world.  Cats, dogs, monkeys, birds, pigs, marine life – no critter is unworthy of their time and care!  Jimmy and Jenny are consultants to the Jane Goodall Institute, the Harmony Fund, and The Humane Society.
Now they have Princess to help.  While they provide life-saving medical care, their adopted dog acts as a nanny, offering comfort and protection to baby animals.
"Princess is part of everything we do day to day and in the bigger picture.  She travels everywhere with us," Jenny explained.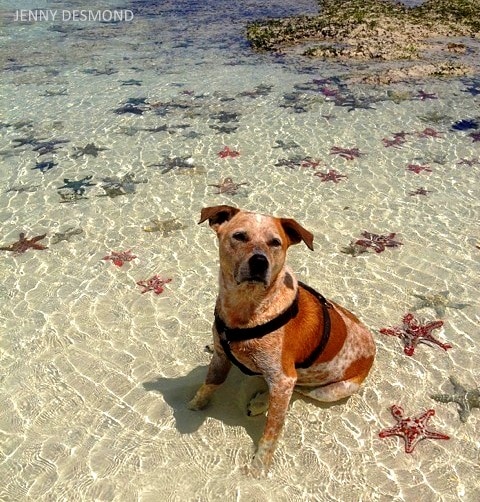 The jetsetter has now been to seven different countries, and is no stranger to the exotic jungles and deserts of Africa and Asia.  All three of the Desmonds have been recognized globally for their altruism.  They've even spent time with the amazing Jane Goodall!
Several weeks ago, the Desmonds began the latest chapter in their rescue adventure story:  moving to Liberia to take care of the chimpanzees who had been used for experiments by the New York Blood Center and then cruelly abandoned with no food.
"Princess, of course, will be helping to save the chimps alongside us," Jenny said.
Best of luck to this philanthropic family on all their wonderful missions!