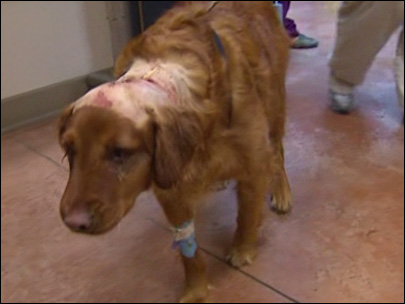 A Golden Retriever named Kona miraculously survived a merciless attack by a neighbor. Yesterday, his attacker was given the maximum sentence for his crime.
On March 20, neighbors heard a dog yelping and called animal control to investigate. What they found was shocking: 3 yr. old Kona was tied to a pole in a neighbor's garage. His skull was crushed, jaw broken, numerous wounds on his body from a hatchet and wire embedded in his neck.
"If this had been a human being it would have amounted to torture," prosecutor Dione Hauger said during Monday's sentencing.
Because the dog was a defenseless victim and the crime was particularly brutal, Hauger said she asked for the maximum sentence. "It was based on the brutality of the actual crime. It was based on the thought and premeditation that went into it. And it was based on the fact that this was a fairly vulnerable victim," Hauger said.
Ricky Lee Knowles was sentenced to 6 months in prison, restitution of veterinarian bills in the amount of $5000.00, must wear an electronic monitoring device for 6 months after his release, and is banned from ever owning pets.
"I wish it could have been more, but to see the guy in handcuffs and taken to jail, that was elating," said Sam Hokanson, Kona's owner.
Knowles says he is sorry for harming Kona. He has said he was suffering from stress . "I had no premeditation. I just couldn't take the noise any longer," he said. "He was barking and I just snapped. I can't explain it."
Kona pulled through his ordeal to make a full recovery. "He's got his hair back. He's energetic. It's as if nothing ever happened," Hokanson said. "But we can't hide that." Kona and his family have since moved to a new neighborhood.