This wonderful little dog is a spitfire and is also called the "Dwarf dog." First bred in Wales for cattle herding, it oddly comes from the lineage that is similar to huskies. Corgis are smart, playful, and good workers. They have been a newsworthy breed for years as they are the favorite breed of Queen Elizabeth II as well as her father. Corgis, also known as the Cardigan Welsh Corgi, are easygoing and love their families hoping to follow whenever they can. They are good guard dogs as they are alert but not yappy. They tend to be a little nippy as they are herders so like to roam and keep everyone in line. As these dogs have are actually classified as dwarfs, they inherit some of the health aspects that go with that medical designation. These busy pups have some medical concerns that are derived from their stature and need to be watched for. Talk to your pet's veterinarian to assess nutritional needs and include the possibilities of potential health issues such as:
Monorchidism
Von Willebrand's disease
Progressive retinal atrophy
Dental disease
Hip dysplasia
Eye problems
Obesity
Your Pembroke Welsh Corgi is going to be a busy dog who can live a fast or slow lifestyle. They are predisposed to obesity if their lifestyle is the latter, so their food and amount of activity need to be taken into account. With all these things under consideration and in consultation with their veterinarian, you should be able to make a good nutritional choice based on your Corgi's specific needs.
What Brand of Dog Food Is Best for Your Pembroke Welsh Corgi?
Your corgi is a unique breed of dog. It is a nimble pup that is happy to have a busy or relaxed lifestyle depending on their owners. Their average weight is around 15–20 pounds, which obviously varies based on age and activity. They need quality protein and fat to balance out their weight and activity. They are not a breed that does well with leaving their food out all day as they are not grazers. Therefore, two meals a day is perfect to meet their nutritional needs. A named protein, as with most dogs, needs to be the first thing listed on the ingredient list of their food—not a by-product or unnamed meat meal. The fat needs to be from named sources as well like chicken fat. Included, should be fish as well as omega-3 and omega-6 fatty acids for healthy skin and coat. The recipe you choose does not have to be high protein, just good quality along with other nutritious ingredients. Avoiding products that list unnamed ingredients, artificial colors, flavors, and preservatives is important as well.
The Best Food Options for Pembroke Welsh Corgis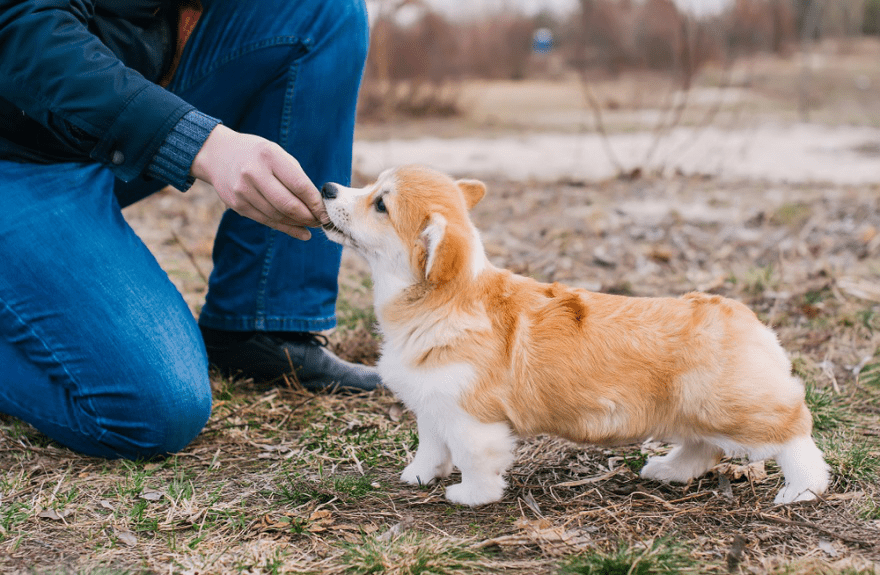 These small-sized dogs are a one-of-a-kind breed. They grow at a normal rate but have a quick metabolism that goes with their hardworking nature. Their small stature and dwarfism can lead to bone issues—especially in the spinal area—so proper nutrition is essential to maintain their long-term health. Their various medical predispositions are important and are things to consider as you look at their diet with their veterinarian. The benefit of good quality food early on will help with long-term health issues. Whether you are looking for standard pet food for small dogs, raw food, wet food, dry dog food, puppy food, or different high-quality dog food, just what is the best dog food for Pembroke Welsh Corgis? Read on to find out what's best for your dog's diet.
Food for Pembroke Welsh Corgi Puppies
Now Fresh Grain-Free Small Breed Puppy Recipe
This nutritionally-balanced product offers a great start for your corgi puppy. It is protein filled with the great and unique tastes of turkey, salmon, and duck. These tastes are accented with the benefit of fruits and vegetables along with omega-3 and omega-6 fatty acids. There are no artificial ingredients. This product offers a solid nutritional foundation for your pet.
Pros: Small pieces to help with tarter and dental care, DHA to help with brain development
Cons: Strong smell, may take some time to adjust to digestively if a new food
Whole Earth Farms Healthy Puppy Recipe
This a great product that is known for its well-balanced nutritional recipe. It has many protein sources listed early in the list of ingredients. Great taste for your Corgi with the added benefit of healthy vitamins and minerals. This product also boasts that it is free of artificial ingredients making it a great recipe for your growing dog.
Pros: Grain-free, very few allergy triggers, no by-products
Cons: Kibble can be varied sizes, sometimes too big for small pups
Food for Pembroke Welsh Corgi Adults
Natural Balance LID Limited Ingredients Diets Sweet Potato and Fish
This recipe of salmon and sweet potato is a hit with small dogs. It's a great product with good nutritional ingredients. It has bite-sized pieces that are full of vitamins and minerals that will benefit bones, coat, and skin. It's grain-free and it has a single protein source so will significantly reduce the risk of an allergic reaction.
Pros: A very limited ingredient list, no by-products, packed with omega-3 and omega-6
Cons: May lead to bad breath, the product is strong smelling
Halo Holistic Chicken and Chicken Liver All Life Stages
This holistic recipe uses cage-free chickens for the main protein in the product along with non-GMO fruits and veggies. This is a hormone and antibiotic-free product that encompasses all the vitamins and minerals needed for your Corgi's best health. It's an easily digestible formula that your pup will enjoy.
Pros: No meat meal, all-natural products, small pieces
Cons: Higher price point, some digestive adjustments at times
Conclusion
There are a lot of good nutritional options for your Pembroke Welsh Corgi. These happy, playful dogs will appreciate the options for healthy food that meets both their taste and health needs. Check with your dog's veterinarian for suggestions on nutritional content and then by a small bag to try it out. Once you find something that tastes good and can support any potential medical issues then you are on your way to a healthy happy Corgi.