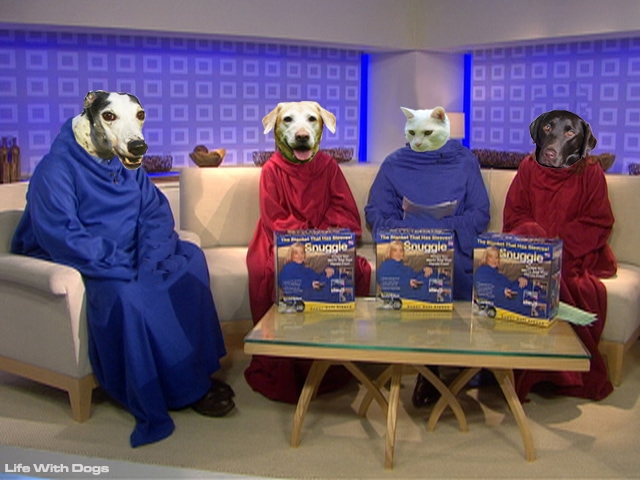 Life With Dogs has grown from my personal blog and creative outlet on Blogger. It is my mission to fetch the most interesting and relevant dog news and video for your consumption when I'm not busy creating goofy cartoons and Photoshopped dog fun, or starting a thought provoking debate on our active fan page. In other words, I'm all over the place.
Speaking of our fan page, I can't recommend enough that you check it out. It is an engaged, compassionate and passionate crowd, and I've learned much this year just by observing. It may sound corny, but it's hard not to love these people when you get to know them.  They are dog lovers extraordinaire. But don't listen to me – find our reader comments or check out our Facebook feedback.
As one reader so succinctly put it:
The Road Dogs says:
Life With Dogs is funny AND informative and I like that you don't mind getting a little political at times and your blog hop has introduced me to so many cool people and animals. The total entertainment package – kind of a "Daily Show" for animal lovers!
Another recent comment that stays with me as I type my next 2 a.m. post:
Kristine says:
I love your site, it is so much more than just a typical blog. I know everytime I visit I am going to find a reason to laugh and/or cry. In a way, Life With Dogs is a community we all share…
Your Tour Guide
I'm the nut behind the cartoons, the antagonist who stirs up trouble and controversy in fan discussions; the ghost writer for Nigel Buggers. But mainly, I'm just a regular guy with a huge soft spot in my heart for dogs. My wife and I reside in Northern Vermont, where I earn my keep as the VP of a technology firm. When I'm not elbow deep in business hassles you may find me here, toiling away at the keyboard in an effort to keep bringing you the best the net has to offer when it comes to all things dog.
My name is Neil, and I love my life with dogs. Connect with me on Facebook.