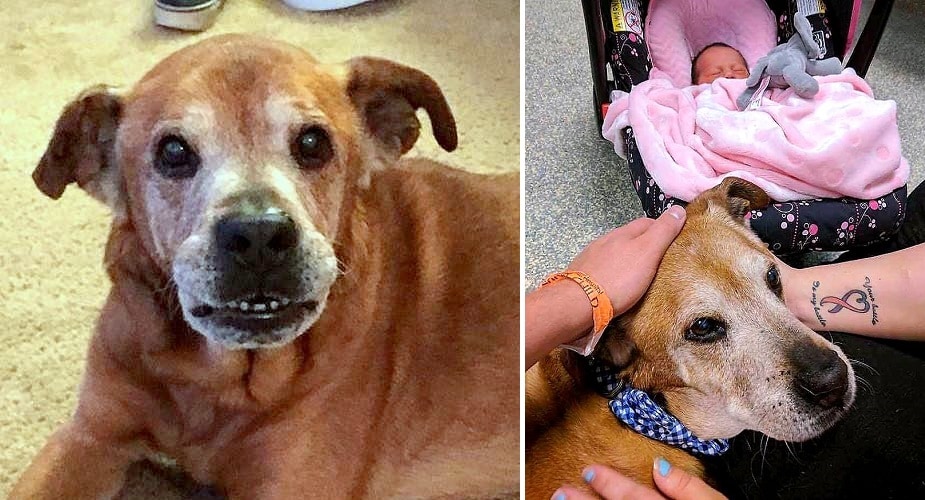 When Beth and Michael Clark went to drop off donations at Anne Arundel County Animal Control last winter, they weren't planning to adopt a dog, but they fell for a sickly senior.  He grew even closer to his mom while she was pregnant, and died just a few hours after meeting the baby sister that he so diligently protected for nine months.
Rocky's former owner used to keep him outside all the time, and he kept running away.  The last time he made his way into AACAC it was for good.  The Clarks stopped by in December of 2015 to drop off some goodies for the shelter animals, and wanted to take a peek at the adoptable dogs.  When they saw Rocky, they knew they were going home with more than they arrived with.
"He just looked so sad," Beth told The Dodo.
But he was a happy boy that Christmas!  He quickly became a beloved family member, and truly blossomed in his new home.  He was old and his years were showing, but he still kept up with his expanding family.
Rocky helped the Clarks announce their pregnancy, and he became more protective of Beth when her belly swelled.
"When I started showing, he was a lot more attached to me," Beth said.
Early last Wednesday morning, Hazel was welcomed into the world.  Michael brought mama and daughter home the next evening, and Rocky greeted his little sister with a good sniff.  But he was weak and his eyes were glassy, and it was clear that his body was shutting down.  A few hours later, Rocky quietly died.
"We're still adjusting to Rocky not being here," Beth explained. "I'm just really glad he was there when we got home."
The Clarks told the shelter staff that he was gone, and Chris Collins of Friends of AACAC wrote a touching open letter to Hazel on Facebook:
Dear Hazel:
Someday your mom and dad will tell you all about your first dog, Rocky. Everyone loved the story of a young Fort Meade couple who came to AACAC right before Christmas 2015 just to drop off donations, but ending up adopting a frail 17-year-old dog named Rocky. Rocky thrived in his new home with your mom and dad, and each update of his exploits was avidly followed by his many fans. Rocky even was the one who made the announcement that you were on the way!
Early Wednesday morning, you were born, and Thursday evening you went home with your proud parents. Rocky, now well over 18 years old, was there to meet you…but not for long. Rocky had been slowly fading in recent months, and late Thursday night he peacefully left the world that you just entered. Before that happened, your sad mom and dad took a picture of the two of you together. Someday, they will show you that picture, and tell you how wonderful and how loved your first dog was, even though your lives only overlapped so very briefly.  Goodbye, Rocky, from all your many friends.
"I hope our story helps other people decide to adopt senior dogs," Beth concluded.