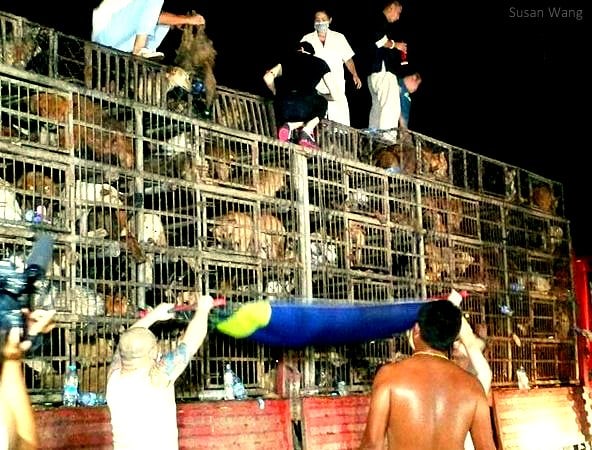 Over 2,000 dogs that were destined for a dinner menu are getting a second chance at life after animal rights advocates stopped five trucks illegally transporting crates of dogs.  Now all but a handful have been taken to shelter, returned to their rightful owners, or adopted into loving families.
Dog meat is still hugely popular in China, but the tide is turning.  Many people are opening their minds and hearts for man's best friend, and shunning a practice that has been an established tradition for many years.  For some, when food is hard to come by, a meal is a meal, no matter its origin.  For those with more options, dogs are losing their appeal as food and gaining it as companions.
On Sunday, concerned dog lovers with the Care for Stray Animals Center in Beijing saw a truck carrying over 400 dogs.  They live-blogged their location and called upon volunteers and traffic police to step in.  A number of vehicles began following the truck, and police finally stopped it about 100 miles outside of Beijing.  Many of the dogs inside were purebred, sure signs that they were someone's pet.
"A lot of them even still had collars around their necks," said Susan Wang, a member of the organization.
Chinese law mandates that animals being transported must have documentation of vaccinations for rabies and other diseases.  Only 110 dogs had documents, which were determined to have been falsified.  The truck would have to return to its starting point or continue on to its destination, where the matter would be resolved.
The first woman who had spotted and followed the truck, identified only as Xiuxiu, told police that the angry crowd wouldn't leave until the dogs were confiscated and in the care of volunteers.  They eventually gave in and gave Xiuxiu 48 hours to deal with the situation.
"I knew how many people there were outside and still on their way," she said. "As long as we worked together, I knew we could make it happen."
Volunteers got to work freeing the dogs from the tightly crammed cages, administering medicine and distributing food.  On Monday, more volunteers on their way to assist spotted four more trucks on the same highway carrying over 2,000 dogs.  Microblog messages were sent out and reached enough people to stop the truck drivers from escaping.
Tangshan police and health officials determined that these dogs were also illegal, and asked the animal advocates to give them temporary shelter at an abandoned chicken farm in nearby Qianan.  In the driving rain, devoted dog enthusiasts, some of whom drove nine hours to help, took on the arduous task of releasing the many dogs from their crates.
Because of social media, thousands of people arrived to help and adopt.  Some brought food, and others performed Buddhist rites for dogs that had died of illness.  Still more were given the job of preventing villagers from stealing the dogs for devious purposes.
Many people were reunited with their missing pets.  One woman saw her brown poodle, Nini, in a photo online, and her whole family came to get her back.  Now only a couple dozen dogs remain without homes or at least temporary shelters.  Police have since cordoned off the farm, causing concern for some volunteers, who are worried about the remaining dogs.  Others, however, are praising police for their promise to help with the effort at the very least by removing trash from the farm.  In addition, three veterinarians who supplied the merchants with false health certificates will be losing their licenses.
In the past, animal activists had been required to buy the dogs they were rescuing from traders.  But because their activism is not viewed as a political threat, officials are more tolerant of their rescues.
"With animal activism, people are showing concern and care for other forms of life — compassion and kindness toward others that Chinese society is lacking at the moment," said Deborah Cao, an animal rights law expert at Griffith University in Australia. "This Chinese grass-roots animal protection movement, as I call it, is social progress for China."