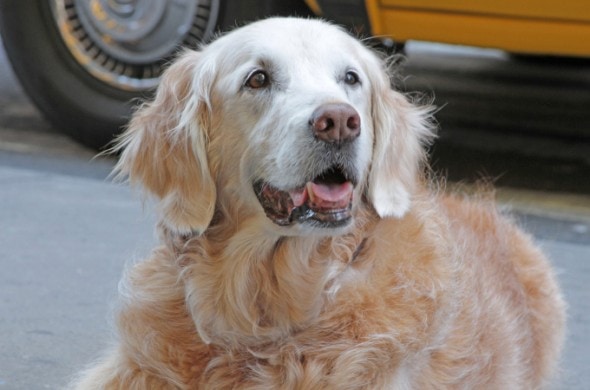 It's hard to believe, but the 9/11 attacks on the United States happened 14 years ago.  When the search and rescue was still going on, Bretagne was there, helping locate missing people in the rubble of the buildings.
She was there for over two weeks, working tirelessly.  Long, 12-hour shifts sifting for signs of life, and comforting firefighters and police officers were just a few of the things she did to help the effort.
Now, over a decade has passed, and Bretagne has celebrated her 16th birthday!  She's one of two surviving search and rescue dogs left from that scene.  It was decided that she would get a sweet 16 party, fit for a queen!
She was flown in from Texas to New York City with her human, Denise Corliss, for a weekend of pampering.  They were put up in a very well-appointed suite at 1 Hotel which overlooks Central Park, and she was also given a dog-friendly birthday cake as well.  Lastly, in a special ceremony, she was given a ceremonial key to the city for her bravery.
She also found herself featured on a billboard in Times Square, and had a piece of cobblestone with her name on immortalized at the 9/11 History Museum.  The whole weekend was wrapped up by her getting to see some of the brave men and women helping out at ground zero,
Bretagne formally retired at age nine from search and rescue work, but the people that she's helped along the way have never forgotten about her.  What a special way to honor a dog who has done so much for so many people!