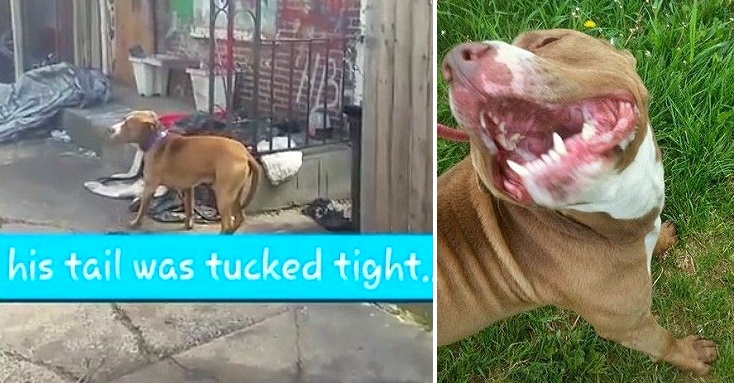 On Mother's Day, a call came in to Speranza Animal Rescue about an abandoned dog on a very short chain.  Police had come out, but were apparently unable to help him.  (Seriously??)
Janine Guido, the founder of Speranza, went out to see what she could do.  The poor boy was on a two-foot chain attached to a porch.  At least he had a blanket to lie on, but that's little consolation to having his family ditch him.
"Every time I would touch him he would tense up and cringe," Janine says on the video.
She did her best to assure him that it would be ok, but he was terrified.  She carefully looped a leash around his neck and freed him from his bulky chain.
You can see the relief wash over him as soon as he gets in her vehicle.  It's like watching an innocent prisoner be released after 20 years behind bars.
An update posted to the page a few days later about Felix says:
I have no words to describe how happy and grateful this dog is!
Every time we go on a walk/jog he turns back at me and flashes a huge smile… you can see in his eyes that he is REALLY enjoying life!
He is affectionate, playful, and just a happy go lucky boy. He has seen a lot of the farm animals. He is in awe of the cows. He thinks they are the coolest thing he's ever laid eyes on! (As he never saw them as a city dog).
I feel so blessed to have him a part of the Speranza family ♡