It was in a place where respect is paid to those who paid the ultimate price while serving their country, but recently, Missouri's Fort Leonard Wood was the scene of a happy reunion between fellow military police warriors who had served three tours, side by side.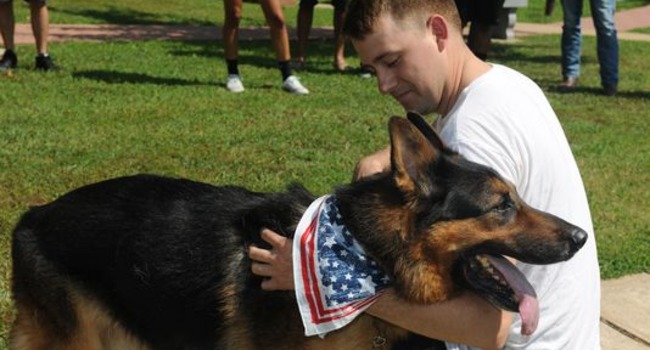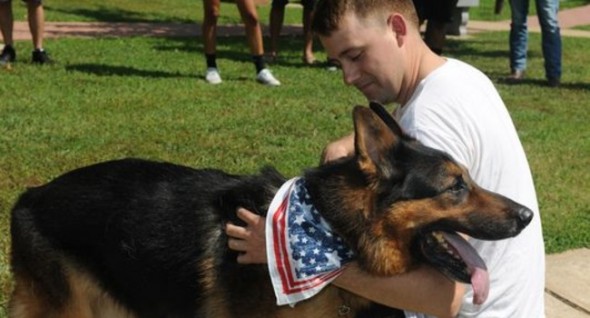 ——————————————————————————
What's more, the reunion was a surprise of sorts.
Sgt. JohnPaul Perry, a military working dog handler currently assigned to the 69th Military Working Dog Detachment, in Fort Carson, Colorado, was at Fort Leonard Wood attending the new Patrol Explosive Detector Dog Enhanced Course. He is scheduled to graduate in November.
Years ago, however, he served multiple tours of duty in Afghanistan. By his side for all of them was Rex, his explosive-detection German shepherd partner. Their time together totaled six years.
Rex served during four Afghanistan deployments with more than 250 combat missions, countless VIP and secret service security missions, Perry told the Springfield News-Leader. The pair conducted over 200 combat patrols while locating multiple IEDs and enemy weapons caches. After their last tour was shortened due to an injury to Perry, the pair returned to Germany where military veterinarians determined Rex, 9 at the time, would be unable to serve due to hip deterioration.
At that time, Perry applied to adopt him and while the request was granted, Perry was unaware that Rex was back in the States. His parents and Sgt. 1st Class Charles Shepker, PEDD-E Course manager, who was Perry's former kennel master in Germany, coordinated the surprise reunion.
"They were an outstanding dog team," Shepker said. "When you talk about a soldier who is totally dedicated to being a dog handler and one who loves his dog, that's Sgt. Perry."
——————————————————————————
Per Shepker, it is rare for a handler and dog to be paired for such a long time and rarer still that the handler is able to adopt the dog once it has retired from active duty.
"Having a dog team paired for such a long time is almost unheard of — just because every three years, due to PCS, the team is broken up," Shepker said. "Perry is fortunate to have had the opportunity to spend two tours in Germany at the same kennel with the same dog. I know how much he loves that dog. To see him being able to care for Rex for the remainder of his years is really a great thing."
A love of dogs, and propensity for working with them, runs in Perry's family. His mother, Sandra, has three search and rescue dogs and for the past 12 years has offered their services, free of charge, to the Warrenton Fire Department and other law enforcement agencies in the St. Louis metropolitan area.
She said she was on the verge of tears seeing her son and his dog together. "JonPaul and Rex are meant to be together. The bond between them is fantastic," she said.
A delighted Perry said that he and Rex are like an old, married couple.
"I don't know what he's going to do anymore (in retirement), as he's been working his whole life," Perry said. "He can get as fat as he wants and sit on as many couches as he wants — just whatever he wants to do. He's the best dog I ever had and the best dog I ever will have. Now, he's going to be mine for the rest of his life. I owe him that."