A recently adopted pit bull came with an unexpected perk:  he can detect seizures.  Danielle Zuckerman didn't know that when she brought him home, but because her dog can give her a 15-minute warning before a seizure strikes, she can now make sure she is somewhere safe and take medication that shortens the episodes.
The former Navy nuclear scientist went to Sammie's Friends Animal Shelter looking for a dog to be a companion for her son and herself, but ended up with something even better.  Unbeknownst at the time, Thor, formerly Blue Sox, can detect seizures, which Zuckerman has after suffering a spinal cord injury.
"I feel so much more comfortable going out in public and going to do things, because when you're an epileptic, you don't have control over your own body," she told WIBW.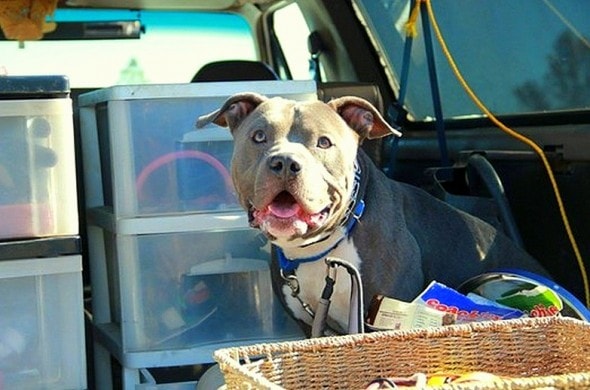 A seizure can strike at any time, and unless she's confined to a bed for the rest of her life, Zuckerman can sustain deadly injuries when one hits.
"I've actually fallen in the shower, and my son had to call 911 because I hit my head," she said.
Just days after adopting Thor, her new buddy jumped on her lap and began barking.
"I didn't know what was going on, I thought something was maybe wrong with him, and about 10 to 15 minutes later I had a seizure," Zuckerman said.
Thor's behavior wasn't a coincidence.  Over the next two months, his new owner had eight seizures, each one preceded by a warning from Thor.
Zuckerman's doctor says that before having a seizure, her body emits hormones that are detectable by dogs, but not humans.  Because she understands Thor's alerts, she can take a new medication that cuts her seizures from five minutes to one.  The heroic boy is now in training to become a certified service dog.
"Remember Blue Sox? He spent many, many months waiting to be adopted. This is an incredible and inspiring story," said a proud post from the shelter.  "Dogs get abandoned and dumped in shelters every single day. Many are euthanized all across the country (and the world). It's a shame. Every dog is special in our eyes. We do what we do at Sammie's Friends because we believe in them, because we love them. This story makes it all worthwhile. All dogs are all capable of extraordinary love. Way to go Blue Sox!"