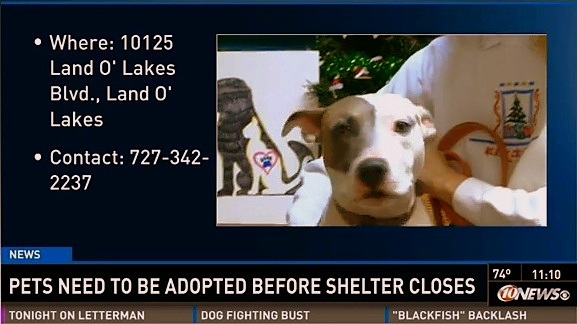 New Port Richey animal control is closing its doors for good, and now all their dogs and cats must find loving homes before the end of the year to avoid being euthanized. Please helps them find forever families!
"They are our babies," said Sharon McReynolds from animal control. "They all have stories to tell, and they need homes."
The deadline to adopt their 35 dogs and 14 cats is December 31st. They are all said to have terrific dispositions, making them perfect family members. It is $12 to adopt a dog, and $10 for a cat.
"At most animal controls, when an animal comes in sick, it either sends it out to a rescue or it euthanizes. We didn't do that.  We actually cared for the animals themselves," Sharon said. "It's very personal. I wake up and I go to sleep doing this. But it's been worth every minute just knowing we could save as many as we have."
In case you have loved ones staying over, or it is just too hectic a time for you, the shelter will even put an animal on hold for you until the holidays pass.
They are located at 10125 Land O'Lakes Boulevard in Land O'Lakes, Florida. They can be reached at 727-342-2237.
"I love them all," Sharon said. "I want them to have homes."