An emaciated pit bull was rescued during a raid on a South Carolina cockfighting ring.  During the investigation it was discovered that she was stolen, and she has now been reunited with her overjoyed family.
"It's seems surreal to both of us," April told WPDE.  "It's such a miracle to have her back."
Nina Louise was stolen from her Bennettsville home on December 27th, 2013.  Owner April Morris was devastated, and put up flyers everywhere.  She offered a $500 reward, but no trace of her dog could be found.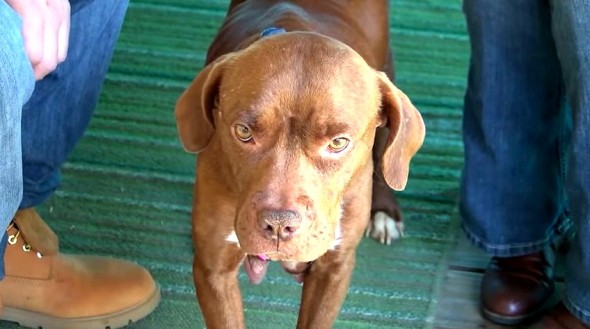 "We walked miles to find her.  I'd walk until I couldn't walk anymore," April said.
April had given up hope of ever seeing her baby again until she saw the Humane Society of Marlboro County's photo of her.
"We knew instantly it was her," April explained.  "I mean, just the way she held her face, the way she looked up at the rescuer."
She called the humane society and spoke to Jennifer Hyduke, who asked April if she could tell her anything about Nina that would ensure she was her true owner.  April told her that Nina had two white spots on her neck.  Sure enough, when Jennifer checked, they were there.
"Everybody was crying," Jennifer said.  "There was no doubt that she knew who that was.  It was very emotional."
April soon learned that Nina was a mother to a litter of puppies only a few weeks old.  Based on the number of scars she has, it is likely that Nina was used as a bait dog before having the puppies that may have been used to be fighters someday.
"I wish she'd have been in better shape, but she's alive, she's here with us, and she'll never go through that again," April said.
Homes have already been found for the puppies, but they will continue to stay with Nina until they are ready to leave.
Deputies arrested 27 people on various charges at the bust.