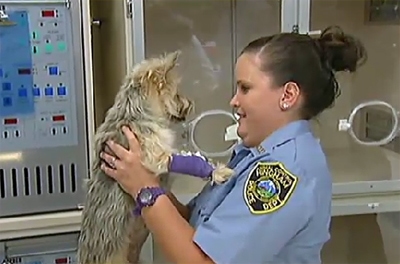 A Massachusetts woman faces  animal cruelty charges for trying to kill her own dog – and a local animal control officer is being hailed a hero for using CPR to revive it.
Eyewitnesses said they watched in horror as Barbara O'Driscoll dragged her leashed 14-year-old terrier into the surf of Nantasket Beach on Tuesday afternoon. They were certain the dog was dead when she dragged it back to shore after holding it underwater. Officers arriving on the scene concurred, finding the dog, 'Foxy', frothing at the mouth and unconscious in the back seat of O'Driscoll's car.
Hingham Animal Control Officer Leslie Badger came to the rescue of the drowned dog. "The last I heard they thought it passed away. When I got there it was in the back of the state trooper's vehicle and he was trying to keep it warm."
Badger detected a faint heartbeat and immediately placed the dog in her van in order to transport it to a vet. She held her hand on the dog's chest to monitor heart rate and breathing. Shortly thereafter Foxy flatlined. "I realized her heart stopped and I started doing CPR in the passenger's seat — chest compressions," said Badger.
Those chest compressions saved Foxy's life. She spit up sand and saltwater and resumed labored breathing before Badger rushed her to the VCA South Shore Animal Hospital in Weymouth. Dr. Martha Smith-Blackmore told reporters that miraculously, Foxy is expected to make a full recovery. "I'm stunned that she survived what she went through. Just what a horrifying, terrifying experience for her," she said.
Officers said O'Driscoll smelled of alcohol when she was booked, and kept repeating the phrase "It's just a dog."  The 60-year-old Cohasset woman claimed innocence in Hingham District Court Wednesday when she denied charges of animal cruelty. Judge Patrick Hurley has strictly prohibited her from owning any pets pending the outcome of the trial.