They lost their home, and simply left him behind. When the moving trucks drove away, there Arnold was. For almost a month he wandered his neighborhood streets and deserted home looking for them while slowly starving. He was finally brought to Bill Foundation by a concerned neighbor, but was already severely traumatized and sad.
He did not know how to ride in a car or use stairs. He was afraid of everything except kind people. He trembled with fear all the time. He did not seek affection or know how to enjoy it. Although terribly skinny, he was too frightened to eat without great coaxing. He did not know how to be in a house, or how to relax and feel safe. He didn't know when he was going to be left alone again and that terrified him. The first time his foster mom left him alone he went into a state of panic and terror and tore the drywall off the hallway.
He was so frightened by his experience that being left anywhere has become too scary for him and he began actually hurting himself in an effort to escape crates and kennels. He seemed determined to escape to get back to his family. For days on end he paced and looked out windows, as if he had lost them and they might actually be worried and searching for him.
Bill Foundation tried everything to make Arnold feel brave and safe. He received much-needed love from volunteers and his foster mom, including help from experts. But Arnold stayed scared and anxious – a gentle boy, but one who wanted to escape, one who always shook with fear and looked so dejected.
Then along came Dearheart…4lbs of fabulous. Frightened and uncertain, the diminutive canine was saved from death row by Bill Foundation. He was brought into a foster home to help with socialization and confidence building. It just so happened that this foster home was also Arnold's, and when the two met, they became fast friends.
In very short time, it became apparent that this was a rescue that was meant to play out exactly as it did. Apart, they are two wonderfully sweet dogs that are a little bit shy and scared by the rough knocks the world has delivered them. But together, Arnold and Dearheart are transformed.
Previously, if Arnold was in a crate at adoption events he would shiver, whimper and cry. Now Arnold and Dearheart share a crate and a life together, leaning on each other for support, and snuggling in peaceful bliss. Arnold clearly feels safer in the presence of his new pal, and their caretakers say both dogs have been changed forever by their partnership.
If you want to take Arnold for a walk, they say all you have to do is pick up Dearheart and start moving. Arnold will follow closely, hopping on his hind legs to keep an eye on his buddy as he is carried. When Arnold rolls over in his sleep, Dearheart picks himself up and daintily maneuvers around Arnold's paws, so he can adjust and nuzzle up to the velvety soft nose of his big BFF. Day in and day out, the two while away their time together as they wait for a forever home.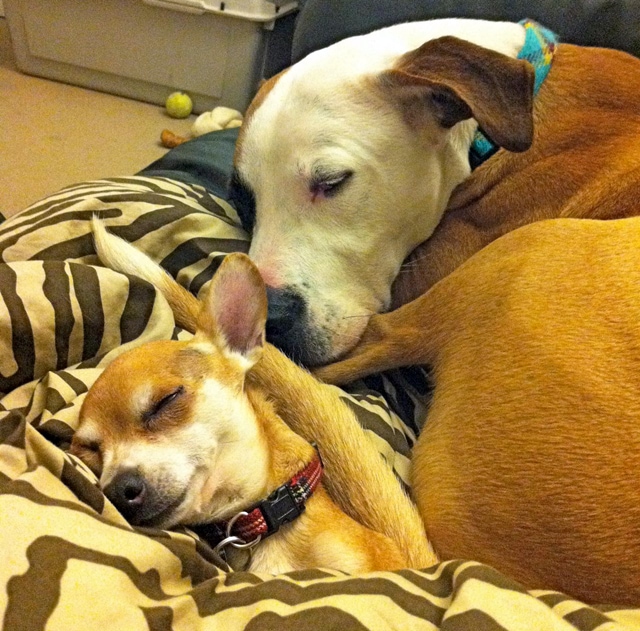 That's where you come in. Even if you cannot provide the right home for this inseparable pair, you may know someone who can. And Bill Foundation has made it abundantly clear that they will not be separated under any circumstances, saying "It's our duty to keep these two special boys where they belong – side by side, just as destiny has decided."
[dcs_head top="0″ color="#666666″] [/dcs_head] A message from Bill Foundation.
Thanks to everyone (especially the fabulous gang at Life With Dogs) for posting your amazing support and sharing the story of Arnold and Dearheart. All of us Bill Foundation have been touched and encouraged in our work to see the tender bond developing between these two formerly bereft creatures. It brings such meaning to our mission in turning every dog we rescue from Abandoned to ADORED. To learn more about Arnold & Dearheart, please click on this link to their adoption bios on Petfinder. http://tinyurl.com/BFPetfinder
We are concentrating on Los Angeles applications because we do insist on an application and a home check for all of our adoption placements, but if you would like to help us, there are ways you can help. We are a small rescue group and rely 100% on donations and fundraising to manage our rescue missions and to support our dogs until they are adopted, including Arnold and Dearheart. Every cent you contribute goes directly to the dogs' needs and is fully tax deductible. We are currently feeding and housing nearly 50 dogs in need of adoption so every dollar counts. http://tinyurl.com/BFdonation