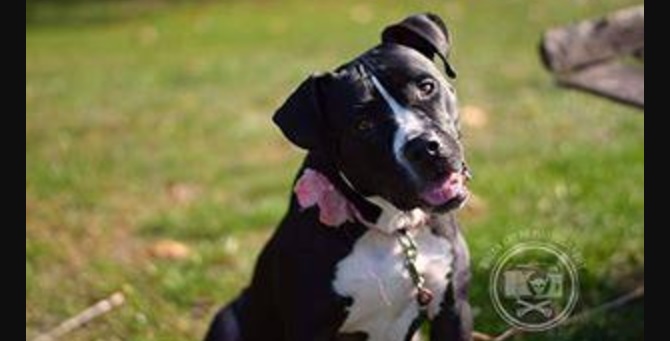 This is our friend, Babette.  She's a three-year-old bully breed, and she's looking for a forever home.  Our friends at Rescue Dogs Rock NYC rescued her after she was taken in by animal control officers off of the streets.  Her rescuers noted that it looked like she had very recently given birth, but none of her puppies were ever found.  Now, she is looking for a forever family, and we couldn't wait to help her out.
As mentioned, she was taken off the streets by animal control officers.  She was extremely underweight, coming in at only 37 pounds.  That's way under the usual 45-50 pounds a dog like her weighs, and it was a real concern because it looked like she had recently given birth.  How was she even able to provide for puppies?!
Unfortunately, none of Babette's pups were ever found.  She spent a short time with animal control at a shelter, and that's when Rescue Dogs Rock NYC found out about her.  They came and took her out of the animal control shelter, and she's been waiting for a forever family ever since.
According to her rescuers, she a very sweet dog who is really full of nothing but love.  She's totally fine with a game of fetch or chase, but also enjoys lazing about on a sunny afternoon, just enjoying the company of her favorite humans.  So far, she hasn't met a human that she doesn't like, and even gets along with other dogs fairly well, but a slow introduction is always advised.
If you'd like to see Babette's bio page, click here.  If you'd like to see the Rescue Dogs Rock NYC main page, click here.  To see their Facebook page, click here.