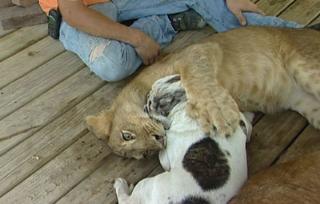 A pair of lion cubs are making a big splash with visitors to The Wild Animal Sanctuary, and surprisingly enough, they are proving even more popular with the resident canines.
The two were confiscated from a Canadian drug dealer prior to their arrival at the long term care facility in Keenesburg, Colorado. "We don't know why he had them," Casey Craig, the son of the founder of the sanctuary said about the former owner of the pair of cubs. "Maybe it was just a cool factor… maybe he thought he wanted to be like Scarface."
Because the two are outsiders to the existing pride of lions, it is necessary to socialize them prior to their introduction. They also need to do a bit of growing before they can hold their own with adult cats. "[The cubs] get to learn the whole social structure of the lion pride through the dog pack. They can get it from a much safer environment with the dogs than just by sticking them in the pride," Craig said.
Based on their current size, Craig expects to integrate the cubs with the pride in the next few weeks.