Inspired by the legend , and offered in appreciation of tonight's TV special.
[audio:https://www.lifewithdogs.tv/wp-content/uploads/2010/10/RightSaidFredImTooSexy.mp3|autostart=yes]
Nigel here. I'm back from my vet trip and wanted to let everyone know what's been cooking. Unfortunately, my selfish two-leggers saw fit to spend "special time" alone while I was in recovery. You know what that means: home alone with the TV babysitter. Even worse; they couldn't even go to the trouble of putting Animal Planet on when they left. So please feel free to call the ASPCA and report them, but in the meantime let me show you what a skinny dog does for fun when nobody is watching.
I was just minding my own business when I noticed this commercial for a shirt that has super special powers. Once I realized that it had a wolf on it there was no turning back…
Thank Sirius for my Blackberry.
Before I knew it I was snacking on UPS leg and unwrapping my new fashion acquisition. Once I had it properly tucked into my jeans it was time to get out and show it off. I stepped outside and got that same funny feeling I get whenever I walk near a church, so I did what the cat always tells me to do in thunderstorms: I hid under the nearest tree. Now I know why the cat recommends it. This blinding light filled my vision and all of my hair stood on end and my noodle got really hot and I forgot my name for a day or so. I'm also pretty sure a little turdlet popped out, but I digress.
Behold the power of the wolf shirt.
I was a new dog. After a week long Nascar and wrestling TV marathon, I thought it best to step out for a day on the town. I stashed my Slim Jims and pork rinds under the dog bed, hid my PBR from the cat and was on my way. Despite the brain fry, I vaguely recalled that dude in the commercial talking about ladies feeling compelled to throw their panties at anyone wearing a wolf shirt, so I thought I would make it easy for them and hang out in front of this place.
Unfortunately I didn't suffer any injuries from flying cotton and lace, but as luck would have it, the people at the store could not help but notice a certain fashion forward hound making waves and stopping traffic. They said I had a perfect body for the job and I wouldn't even have to smoke nine cartons of cigarettes a day or chunder under the dog bed when nobody was looking.  I was signed to a mega-dollar deal and whisked off to Paris for my first show.
My one and only runway appearance.  I crowd surfed when they told me it was called a catwalk.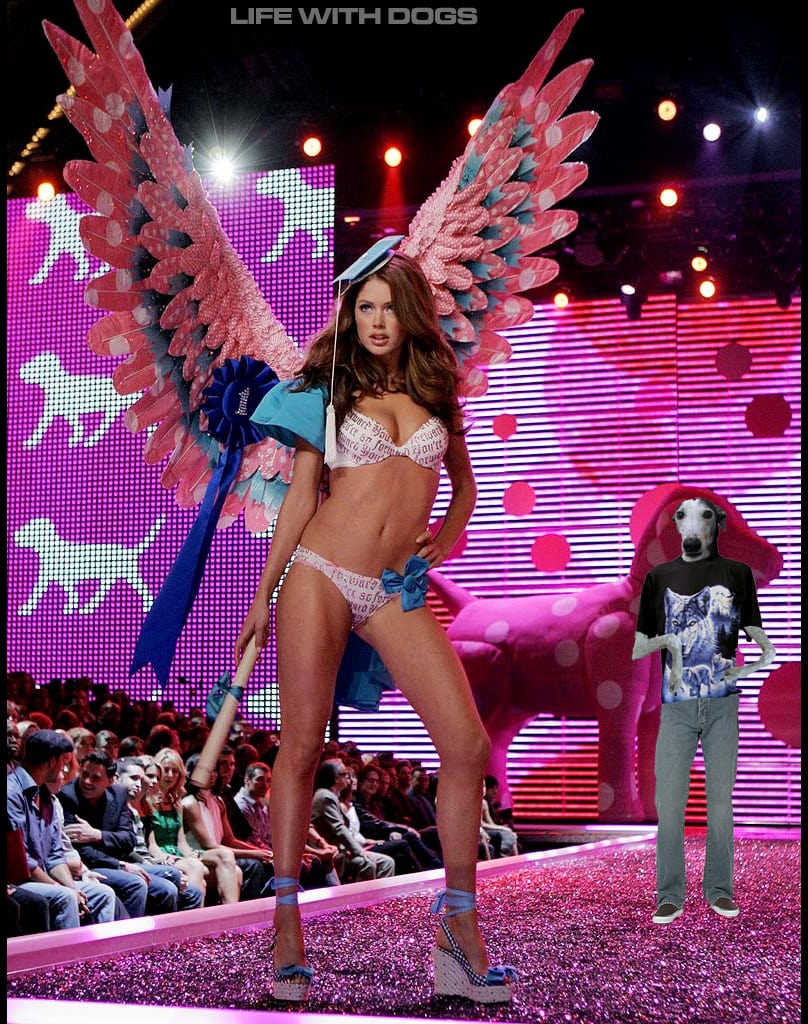 It was decided that I would be better suited for photo shoots in exotic locations. I offered no argument. Of course, I was feeling a little high on all of the fame…
That party pooper on the left cut the string. And just for the record, she isn't so "Sure".
Once I was planted firmly on the ground I decided to get down to business.
So ended my modeling career. Champagne and caviar dreams faded as I took my last private plane ride home, the events of the prior week playing out in my head. Sure, I could have done things differently, or been a little more "professional" but that's not my style. Besides, I'm a sprinter: I lack the physical prowess and mental energy to pursue anything other than the sofa for a few minutes.
The money is gone and the flash of the paparazzi has dimmed, but despite the letdown, this modeling gig did come with one lasting benefit…..
I'm a wolf shirt believer.