When you're a blind, 18-year-old dog lost in a kill shelter, life is nothing short of terrifying.  Poor Muneca was exactly there recently, and didn't seem like she really had anything left to hold on to.  That is until one person came along and picked her up to comfort her, and Muneca just couldn't let go.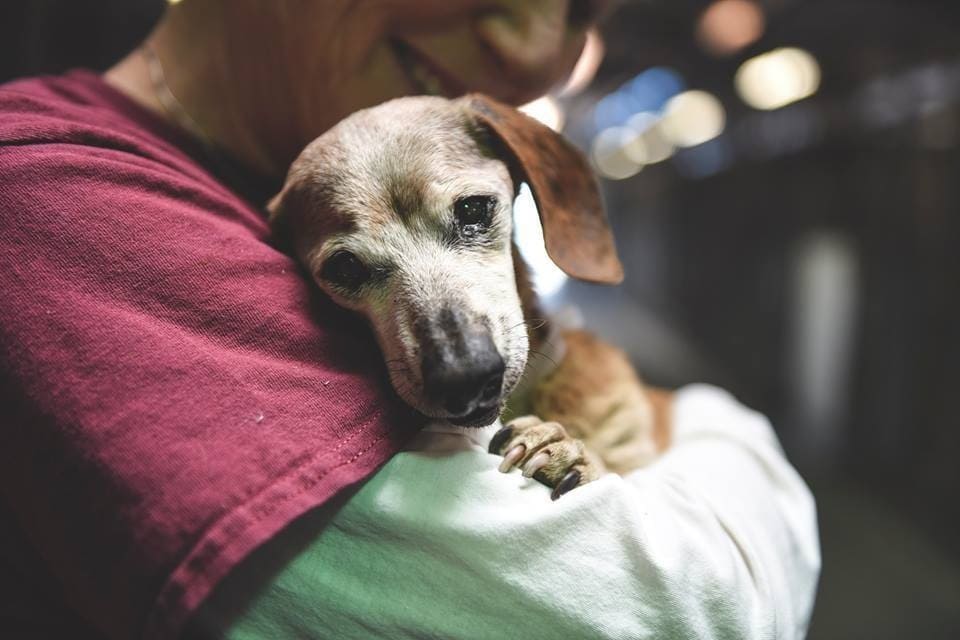 A photograph of Muneca and longtime volunteer and friend to the animals at the Baldwin Park Animal Care Center in Los Angeles, Elaine Seamans, was taken recently by John Hwang.  He arrived at the shelter to take some photos and he walked in on the now famous hug.
"When I got to the shelter, Elaine was already holding the dog," said Hwang to The Dodo.  "The dog was clinging on to her."
The photo was taken, and then put out on social media.  It isn't very difficult to see why this photo went almost immediately viral.  However, it isn't just the photo that is so amazing.  What's truly awesome is that the photo moved so many people, and helped get Muneca OFF of death row!
In all actuality, Muneca was only at the shelter for about two days.  The photo prompted the Frosted Faces Foundation to step up and rescue her.  She was taken out of the shelter, and it seemed that the dog who was wanted by absolutely no one, had people lining up all over to help her out.  She was eventually adopted by Amy Gann.
"We screened a lot of people and talked to all their references," said Kelly Smíšek, executive director of Frosted Faces.  "We home-checked a bunch of people.  By the time we approved someone and they drove to San Diego, I met them, I was very nervous.  I thought, 'I hope we picked the right person.'  And immediately, it was, 'Oh my Gosh.  I'm so glad she's going home with you!'"
Gann and her family absolutely ADORE Muneca!  It turns out that this little, four-legged, furry ball of love has quite a few memories to make with her new family, and they take every opportunity to make sure that she gets to do a lot of really cool stuff.  She may not have a ton of time left, but Gann and her family INSIST on making the most of it!