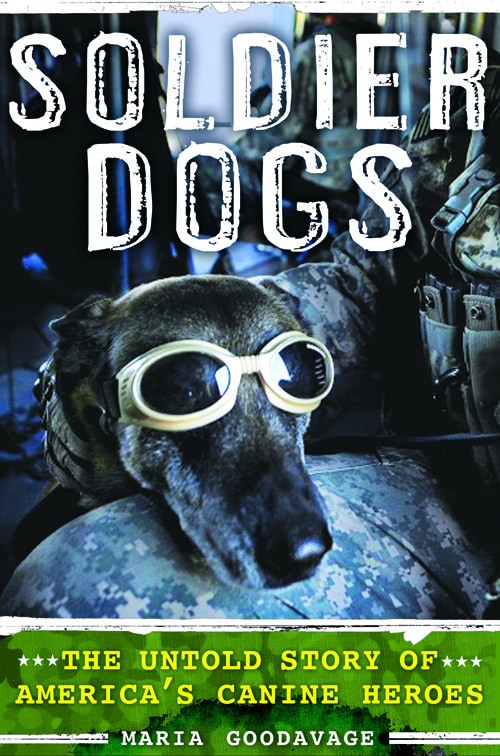 People all over the world have been riveted by the story of Cairo, the Belgian Malinois who was a part of the Navy SEAL team that led the raid on Osama bin Laden's compound. A dog's natural intelligence, physical abilities, and pure loyalty contribute more to our military efforts than ever before. You don't have to be a dog lover to be fascinated by the idea that a dog-the cousin of that furry guy begging for scraps under your table-could be one of the heroes who helped execute the most vital and high-tech military mission of the new millennium.
Author Maria Goodavage tells heartwarming stories of modern soldier dogs and the amazing bonds that develop between them and their handlers. Beyond tales of training, operations, retirement, and adoption into the families of fallen soldiers, Goodavage talks to leading dog-cognition experts about why dogs like nothing more than to be on a mission with a handler they trust, no matter how deadly the IEDs they are sniffing, nor how far they must parachute or rappel from aircraft into enemy territory.
"Military working dogs live for love and praise from their handlers," says Ron Aiello, president of the United States War Dogs Association and a former marine scout dog handler. "The work is all a big game, and then they get that pet, that praise. They would do anything for their handler." This is an unprecedented window into the world of these adventurous, loving warriors.
How to Enter
Today's three giveaway winners will each receive a free copy of Soldier Dogs by mail. As always, only those in our e-mail list are eligible, and if you're not one, you can fix that in five seconds by clicking here. When your first daily digest e-mail arrives, hit reply, type the words "contest entry" in the subject and send (current subscribers can reply to today's digest). We'll use randomizer.org to select one winner, who will be notified by e-mail. Entries will be accepted through midnight Sunday: please note that this contest is open to residents of the US only. Good luck!