A tragic car accident in Montgomery County, Fla., left a black mixed dog paralyzed. Ordinary people would have given up on him and turned to euthanasia, but this dog's touching story moved many animal lovers and the paraplegic dog was given a second chance. He is now loved and on the mend.
Toni Caiazzo was one of the first people to approach the dog after he had been hit by a car. Being an animal lover herself, the woman took the dog to an emergency vet clinic for help.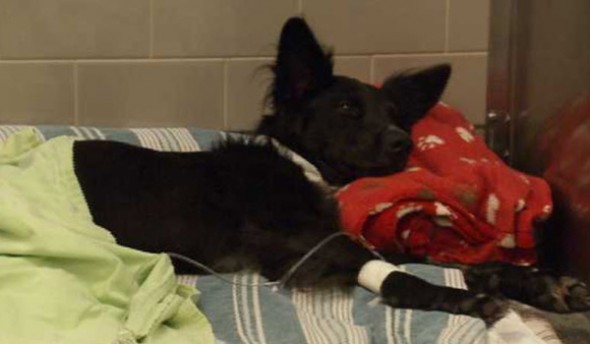 "The poor driver. God bless him. He was so upset that it happened. He was there kneeling over [the dog]. I think he was in shock himself," Caiazzo told My Fox Orlando.
The injured canine did not have a collar or microchip, but nevertheless, Caiazzo was determined to help him.
"In spite of all his pain and shock, he looked me in the eye and laid his head on my arm and just stayed like that. Kind of 'tug'," she said.
At the vet clinic the woman named him Tugger and the pet was examined. Dr. Joseph Eagleson with Veterinary Specialty and Emergency Center determined the four-legged hit-and-run victim had an irreversible spinal cord injury.
Tugger will never walk again, but his will to live is so strong, that veterinarians expect him to thrive and do very well on a doggy wheel chair. His fractured vertebrae will take a while to heal, but once it heals, the little fighter will be ready to use a wheel cart.
Caiazzo has turned to social media platforms to find Tugger's rightful owner, but so far his owners have not come forward. The woman is not worried for the pet's future because she is willing to adopt him if his original owners don't claim him.
All the social media attention Tugger has gathered has also helped raise funds for his medical care. Over $8,000 in donations have poured in to help Tugger get better, and more than one person has offered to provide him with a doggy wheelchair.
"Everybody is thanking me for stepping up, but honestly without everybody else, I couldn't have done this for him. What I did for him is nothing. What everyone else did for him is just amazing," Caiazzo said.
Tugger might never walk on all fours again, but thanks to the second chance he was given, soon enough he will be rolling and enjoying life.