Are you looking for a very small senior with a very big personality? You can't go wrong with Dolson, a dreamy and sweet little guy who's had too much shuffling in his life. It's high time for this handsome devil to find his forever family.
Would you just look at that sweet, happy smile!?
Dolson, a tiny, little Chihuahua mix, is 11 years old. He originally found himself at the Norfolk SPCA in Norfolk, VA, because his owners could o longer afford to care for him, but sadly, he has since been in and out of their care. The last time he returned to the shelter, in fact, he was severely emaciated! But thanks to a grant from the senior dog lovers at the Grey Muzzle Organization, the SPCA was able to get him all the TLC and medical care necessary to bring him back to great health.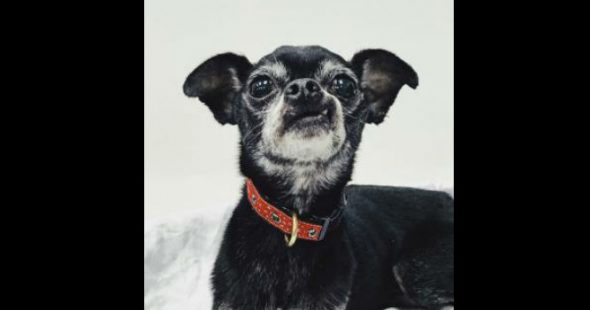 Staffers here feel like Dolson is consistently overlooked by adopters because of his age, but they know he still has a lifetime of love to give.
Little big man Dolson, say his caretakers, has a huge heart. He loves to be the center of attention, but if you're not around, he's happy to do his own thing (much of which consists of napping in comfy beds!).
He is looking for an adults-only home in which to live out his days and dole out his love. Everyone, they believe, would be happier with a little sidekick like Dolson around to brighten their days!
The Norfolk SPCA is located at 917 Ballantine Blvd. in Norfolk, VA. Adoption hours are 1-6 p.m. every day but Tuesdays (on which they are closed). Want more info? Visit the Norfolk SPCA website!
ALL Norfolk SPCA adoptions include:
• The pet's spay or neuter surgery
• Vaccinations appropriate to age & heartworm test
• Microchip and registration
• General health exam
• Behavior evaluation
• 1st month's flea & heartworm preventative
• Free 30-day offer of pet health insurance
• Care-A-Lot adoption kit valued up to $200
What's more, after adoption, all alumni receive lifetime perks!
• 10% off vaccine clinic services
• 10% off dental cleanings
• 10% off merchandise (including over-the counter veterinary products)