On Monday, Sept. 15, 2014, Police Officer Wendy Bryant, from LaGrange, Ga., and her K9 partner Chico, a Belgian Malinois, were hunting down escaped felon Lester Sullens in a wooded area when the four-legged officer went missing. The fugitive was apprehended and told police he fought off the dog and left him tied to a tree, but when authorities went to retrieve the dog, Chico was nowhere to be found. The dog was found more than 48 hours later, when little hope of finding him alive remained.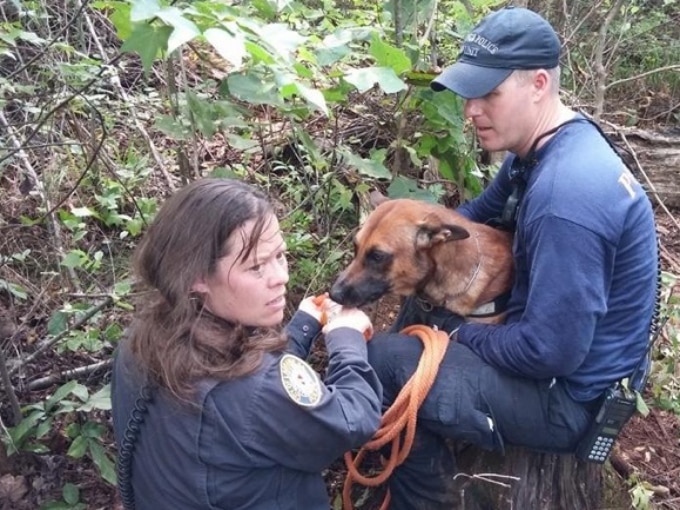 "I don't want to say I gave up because every night I'd go home and lay in my bed and I would think that I heard him barking," Officer Bryant told 11 Alive News.
On Tuesday morning a multi-agency search party was organized to locate the dog, but by the end of the day the K9 officer was still missing and the search had to be called off.
In a released statement police asked the public to refrain from approaching the dog if found.
"Please do not attempt to engage with the animal, nor should you run from the animal. Your best course of action is to remain calm and be still and call 911 immediately with details of your location and the animal's location."
On Wednesday, LaGrange Police and Troup County Sheriff Deputies resumed the search and Chico was found around 3:30 p.m.
An officer announced over police radio that Chico had been found and Officer Bryant couldn't believe the news.
"I said, did somebody just say they had my dog?" recounts Bryant. "Take me to my dog, now."
For safety, the officers who located Chico asked the handler to come retriever her partner. The dog was tied to a tree just like Sullens told police, but since the dog had spent two days surviving burrowed in thick brush, without access to food or water, it was in everyone's interest to have Chico handled by someone he trusts.
The dog was taken to a veterinarian and the dog was in fair condition. Chico was a bit thinner but is expected to regain the lost pounds and be back to normal soon.
"This is my partner you know, we say that these dogs will take bullets for you, they'll go through fire for you, and there's not a handler out there who's not going to do the same thing for their dog," Bryant said.