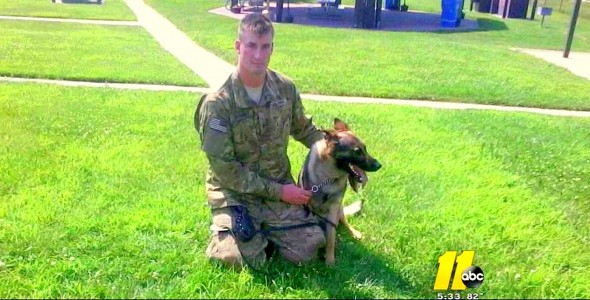 Specialist Brent Grommet went on a number of missions in his days in Afghanistan, but now he only has one mission:  to get combat dog brother Matty, whom he was promised he could adopt when they were both discharged.  But the paperwork got lost and the dog who saved his life was adopted by another family.  So SPC Grommet is making a public appeal for them to please let him take Matty home.
"They're not dog and handler, they're brothers," said Brent's father, Don.
The 23-year-old was paired with Matty in 2012 as part of the Tactical Explosive Detector Dog program.  When they graduated, they were deployed to Afghanistan, and became injured in two separate IED attacks.
"They're not dogs to us," Brent said.  "He had saved my life over there… they're part of the family.  They are your brother."
They returned from deployment in July of 2013.  Brent was dealing with PTSD and spinal and brain injuries.  Matty was dashed away from a New Jersey Air Force base, and Brent returned to Fort Campbell so he could prepare for medical retirement.
"When you lose a dog it's really hard, but after you've been through everything with that dog, and you come back and you're told 'Okay, you got ten minutes to say goodbye to your dog and then we're taking him?' It's a very rough place to be left off on," Brent said.
Don was able to track the dog down to Fort Bragg, where Vet Services was treating him for a torn ACL.  He was prepared for separation from service and put up for adoption.  The Grommets said they submitted paperwork and were told it got lost, so they re-submitted the application.
"We were told several times not to worry about it; that everyone knew that Brent was going to adopt Matty," Don explained.
After months of calling to check on his adoption status, Brent was told in March of 2014 that Matty had been adopted.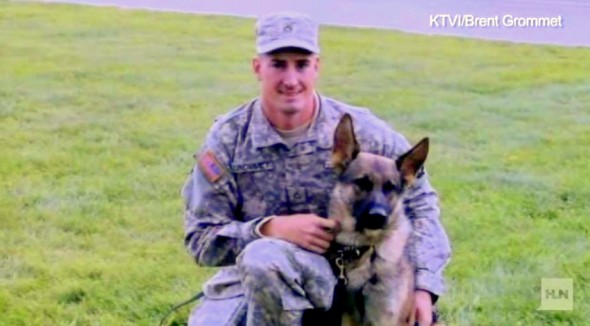 "I was devastated," he said.
"It's not the soldier's fault, and the soldier shouldn't be punished," Don said.  "But the only one being punished here is the soldier and the dog."
A military contact was able to track Matty to a civilian in the area.  The man who adopted him said he had already become too attached to him, and was unwilling to give him up.
"I'd be willing to buy the dog off of him, get a new dog for him….Whatever it would take to get Matty back," Brent proclaimed.
"I'd like to think that people will do the right thing when it comes down to it," his father said. "I do have times when I doubt that this is ever going to happen. I know my son has doubts that this is ever going happen."
"I probably will not give up on this until the day I die," said Don, who has already reached out to the White House, congressmen, and military representatives to help him get Matty back for his son.  "My son needs that dog for his healing."
Brent is hopeful that getting the word out there to the public and the man's friends and family will encourage him to have a change of heart.
"Veterans of war can call up their battle buddies and talk and help each other.  Lifelong friendships have been formed in fox holes," he wrote in a public letter. "Matty and I was continually moving from unit to unit, I didn't get human companionship, mine was canine. Matty was my constant. It is for this reason that I am requesting your help in order to try and get Matty back. This would mean the world to me."
Brent can be reached on his Facebook page.
YOU CAN HELP BRENT GET MATTY BACK BY SHARING HIS STORY.